The Columbus Arts Festival is this weekend (June 9-11, 2017) and there is so much in store! If you're a first-time visitor, you're going to be blown away by displays of visual and performing art, great food, beautiful vistas of the Scioto Mile and hundreds of artist's booths to browse and buy from. If you're an Arts Festival veteran, you know there's always something new to get excited about. Here are just a few highlights:
Hotel LeVeque Travel Package
Experience the 2017 Columbus Arts Festival in style when you book this package at Hotel LeVeque, Autograph Collection which includes drinks, tickets and more! The hotel is just across the street from the north end of the festival's footprint. 
Package includes:
• Two VIP Passes to the 2017 Columbus Arts Festival
• Two drinks in The Keep bar
• Continental breakfast for two guests
• Hotel LeVeque Signature candle
From $399/night. Book your stay here.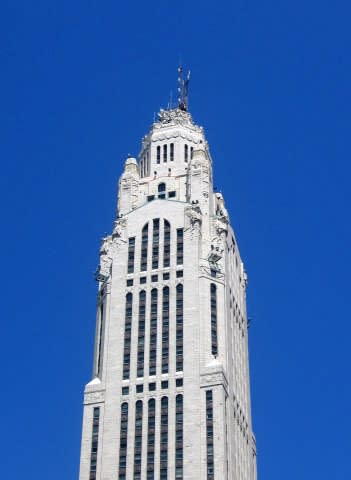 Festival Lighting Installation
Artists Christabel and Samuel Wagner are creating a sculptural lighting installation. Titled Structural Circumstances E.G. 2, the installation will be a 24' x 8' replica of a mobile home made from multicolored, transparent plexiglass built just south of the fountains on the east side of Bicentennial Park.
Sign Your Art is Back!
After a year hiatus, this beloved community project returns to the Arts Festival. Festival guests can paint their own tiles in a tent next to the Cultural Arts Center on South Second Street. Approximately 300 pieces will be curated from the festival creations to be installed throughout the community in July 2017.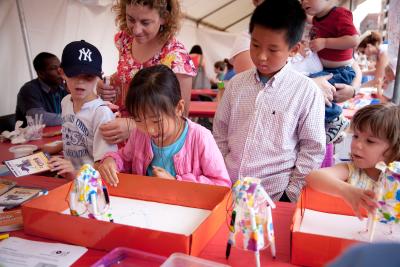 Student-Designed Merchandise
Students from the Columbus College of Art & Design designed all of the T-shirts for the 2017 Festival. Guests can show their support for local art students by purchasing Festival T-shirts at one of two the Merchandise Tents located in the center of each bridge.
Columbus College of Art & Design Shade Installation
Students from Columbus College of Art & Design have also created an installation that will provide shade to festival visitors enjoying meals and watching performances just off Washington Boulevard near the West Bank Stage.
Family Care Station
The Family Care Station offers families a private and shaded area to change diapers and feed the youngest art fans. The station will be located on the west side of the river near the Art Makes Columbus Activity Village presented by Huntington.
The Festival's hours are Friday, June 9 from 11 a.m. to 10:30 p.m., Saturday, June 10 from 10 a.m. to 10:30 p.m. and Sunday, June 11 from 10 a.m. to 5 p.m. (Please note: on Friday and Saturday, artist booths close at 9 p.m.)