It's just the second full season for the Columbus Crew at Lower.com Field, and this stunning, still very new home is shining as bright as ever in 2023.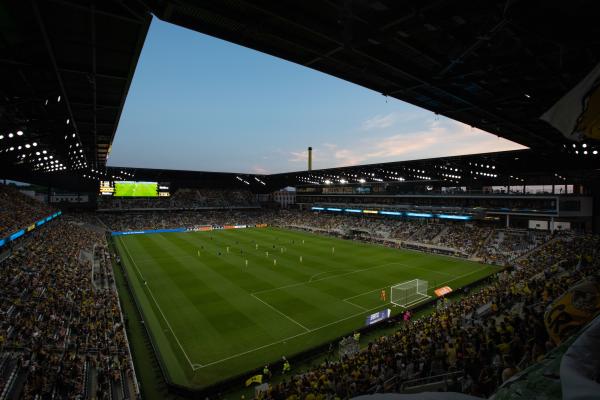 The Crew kicked off its 28th MLS Season in Philadelphia on February 25 and will celebrate "Crewsmas" alongside thousands of supporters Saturday, March 4 when the Black & Gold host D.C. United at 7:30 p.m.
Whether you're attending the home opener, planning to attend a Crew match for the first time in 2023 or just curious to learn about what it's like to feel the energy of Lower.com Field, we've got you covered with what's new to the Crew fan experience this season:
New Food & Beverage Options
The Crew welcomes three new craft beer partners to Lower.com Field, including Columbus-based Garage Beer, Wolf's Ridge Brewing and Zaftig.
There are also lots of tasty new food options on the Lower.com Field concourse, like the new Hard Hat Nachos at Columbus Craves or the Bacon Jalapeño Cheddar Brat and Italian Sausage at Links and Beers. We had the chance to preview these new food options and trust us, they taste as good as they look...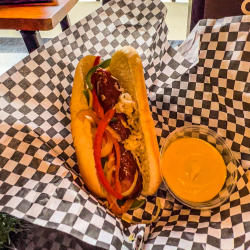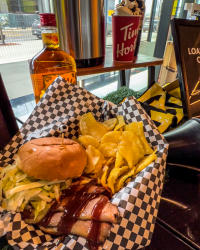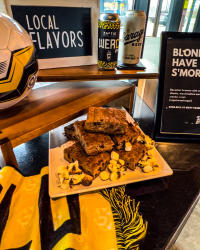 Besides being tasty & delicious, food and beverages at Lower.com Field are super easy to order, especially with expansions to mobile ordering at the stadium. Download the Crew app and order straight from your phone at the match.
In addition to everything new, you can find some local Columbus favorites returning to Lower.com Field, including Dirty Franks, Donatos, Hot Chicken Takeover, Schmidt's and more.
New Matchday Rituals
If you've attended a match at Lower.com Field, you can attest to the energy you feel the minute you walk through the gates. The stadium was designed to put supporters close to the pitch and create a loud, exciting atmosphere. Lower.com Field features one of the largest supporter sections in Major League Soccer, a high seating bowl rake and seats as much as 28 feet closer to the pitch than at Historic Crew Stadium.
This year, the Crew will celebrate with a new goal song that debuts March 4 and was decided via fan voting. The Jackhammer Celebration after goals will continue, but the area will be enhanced with more bricks and cones to make it feel more like a construction zone.
Two new ways for fans to get involved at matches include welcoming the team and voting for the Nationwide Man of the Match. Beginning approximately 45 minutes before warm-ups, fans are encouraged to line Columbus Crew Way to cheer on the players upon arrival as they enter Lower.com Field's West Lobby off the bus. You'll also be able to vote on the Nationwide Man of the Match starting at the 70th minute, and that player will be announced after The Nordecke and team sing Wise Men together in what is a beautiful Crew tradition.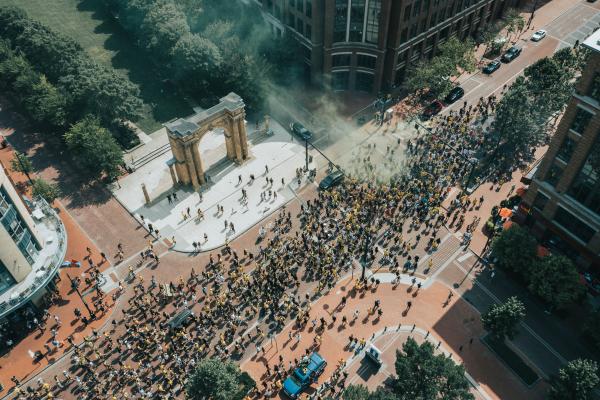 New Premium Spaces, Tailgate Areas and More
Whether you're looking for that pre-match tailgate or a premium experience, you'll have new ways to enjoy Crew matches in 2023.
The North Lot at Lower.com Field will serve as a Supporter HQ, with further timing and details to come from The Nordecke at a later date. This space will be hosted by the supporter group, where fans can enjoy games, food, music and more.
Theatre Boxes and Party Decks are also on sale, and with nearly all of the premium spaces at Lower.com Field sold out, it's a new and exclusive way to take in the Black & Gold. Both premium areas will offer stunning views of the stadium and include food and beverage options.
Can't Help Falling in Love With Crew
With so many ways for people of all ages to have a great time at Lower.com Field, Crew matches are sure to be must-see events in Columbus this year. You'll have 17 chances this regular season to see the Black & Gold on Sports Street and experience everything our destination has to offer.
Learn more about what to expect when attending a Crew match, including everything to do pre-match, at the game and post-match, and check out Experience Columbus' website for where to stay, where to eat and what to do when you're here in the Arena District taking in an event at Lower.com Field.
Share your memories with us using #LiveForwardCbus and find more spring travel inspiration here.