As you're doing your holiday shopping this season, be sure to start your day with breakfast, brunch, or coffee at these great local spots nearby!
Breakfast at Easton
You can spend a full day shopping and taking in the holiday sights at Easton Town Center. A day there should start with one of a hearty breakfast on site. Start with burritos or fluffy pancakes at Northstar Cafe, fresh juices at Zest Juice Co., or an Irish breakfast at Fado. On the weekends you can brunch at Bon Vie, Flip Side Burger, or Brio.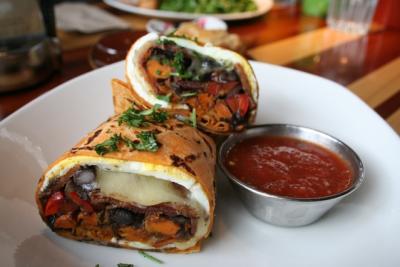 Fueling Up for Polaris Fashion Place
Fuel up for a day of shopping around Polaris Fashion Place with breakfast nearby at the Westerville Grill, Gena's Restaurant (home of the pecan roll!), and Pancake House. Or grab a fresh donut at Schneider's Bakery in Uptown Westerville. On the weekends, you can start with brunch at Mimi's Cafe, 101 Beer Kitchen, or the Polaris Grill.
Brunching in the Short North
The galleries, boutiques, and curio shops of the Short North Arts District offer great strolling and shopping. Let the colorful arches lead your way as you shop for everything from local art to candles, clothes to housewares. Start your day with a croissant and French toast at Tasi Cafe, or fried egg tacos and johnnycakes at Philco Bar + Diner. On the weekends you can start off with breakfast pizzas at Forno, custardy French toast at The Rossi, or the brunch buffet at Union Cafe. Don't forget a cup of coffee at One Line Coffee, Mission Coffee Co., or Impero.
German Village
There's a threefold benefit to shopping in German Village: you get exercise walking around, you can support local businesses, and you can enjoy the picturesque views of the neighborhood. Browse for books at The Book Loft and pick out ornaments at Helen Winnemore's, pick out wines at Hasfrau Haven and clothing at Vernacular.
Before you start your day in German Village, enjoy a hearty brunch at Skillet, have a bagel or corned beef hash at Katzinger's, pick up coffee and sweets from Pistacia Vera or Kittie's Cakes.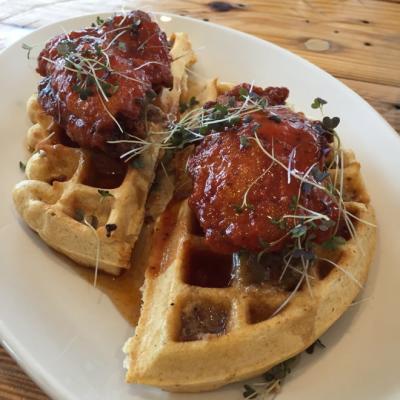 The Mall at Tuttle Crossing
If you're hitting up the Mall at Tuttle Crossing, there are plenty of hearty breakfasts on the way, from waffles and scrambled eggs at Chef-O-Nette, to huevos rancheros or giant omelets at Jack & Benny's, to towering stacks of pancakes or corned beef hash at Fitzy's Old Fashioned Diner.