If you are enjoying an evening with friends close to downtown Columbus, there is no reason you should have to cut off the festivities. You can also seek out one of these eateries – places with kitchens open past 11 p.m. – around downtown, Franklinton, the Brewery District, Short North, and Italian Village.
Downtown/Franklinton/Brewery District
Around downtown Columbus, the Brewery District, and Franklinton you'll find a variety of late night eats.
Tip Top Kitchen & Cocktails: This Ohio comfort food haven is open until 2 a.m. daily, serving craft beer and cocktails to go with meatloaf, mac and cheese and pot roast.
Jack & Benny's Downtown Diner: Situated close to the site of the original Jack & Benny's, a long-gone mid-century diner, Jack & Benny's Downtown Diner is open 24/7 serving classic breakfast and lunch dishes.
Condado Tacos: Condado's downtown outpost features a small patio close to the Columbus Commons. Order up margaritas, get to know mezcal, and build your tacos until 2 a.m. Friday and Saturday, and until midnight Sunday -Thursday (drinks, guacamole, chips and salsa are available until 2 a.m. these nights.)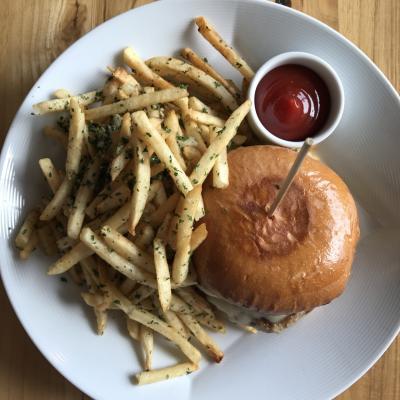 Wolf's Ridge Brewing: Fridays and Saturdays both the Wolf's Ridge dining room and the taproom are open until midnight, so you can enjoy their creative menus and award-winning house beers.
Strongwater Food & Spirits: The kitchen closes earlier at Strongwater in Franklinton, but the bar remains open until midnight (2 a.m. Fridays and Saturdays!)
Local Cantina: This Brewery District taco joint serves up tacos, burritos, beer, chips, and more until 2:30 a.m. daily.
 
South Fourth Street
South Fourth between Main and Rich streets houses a collection of bars and eateries perfect for late-night entertainment.
Dirty Frank's Hot Dog Palace: Wacky decorations, boozy slushies, craft beer, tater tots and loads of creative hot dogs are served daily until 1:45 a.m.
Hadley's Bar & Kitchen: Hadley's offers an eclectic menu of snacks, shareables, and tacos until midnight (and later until 2 a.m. Thursday-Saturday.)
Mikey's Late Night Slice: They're not kidding about the "late" in the title! Mikey's first full-service sit-down restaurant serves giant slices of pizza and drinks until 3 a.m. (and 4 a.m. on Fridays and Saturdays.)
El Camino Inn: The retro dive El Camino Inn serves tacos, tequila, gorditas, and more until 1 a.m. (and the bar's open later.)
Little Palace: A sister restaurant to El Camino Inn next door, Little Palace serves comfort foods like burgers, poutine and subs until 2 a.m.
16-Bit Bar + Arcade: Although 16-Bit doesn't serve food, they're still open until 2:30 a.m. with a full bar and vintage arcade games.
The Walrus: Around the corner on Main Street, the Walrus stays open until 2:30 a.m. daily, with the kitchen open until 1 a.m.
 
Short North Arts District
It should be no surprise the Short North keeps busy until all hours. Here are a few neighborhood eateries that stay open late: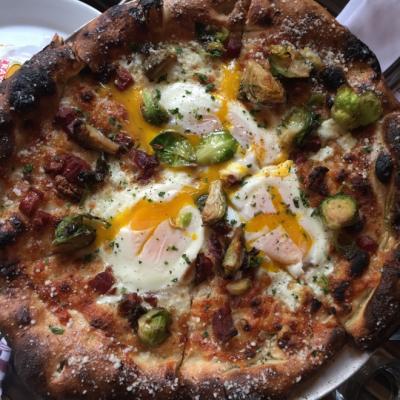 Forno Kitchen + Bar: Open until 1 a.m. Fridays and Saturdays, Forno serves up cocktails, calzones and oven-fired pizzas.
Biscuit & Branch: This southern-themed eatery serves their signature biscuits, pork chops, shrimp and grits until 1 a.m. on Fridays and Saturdays.
Union Cafe: One of the city's most popular LGBTQ bars is open daily until 2:30 a.m. serving cocktails and creative eats. And they've got a great patio!
Standard Hall: The sprawling Standard Hall is open daily till 2 a.m., offering up a fun menu of colorful drinks, pizzas, tacos and sandwiches.
Pint House: Pint House is an open-air beer hall that's open daily until 2 a.m. serving pizzas, wraps and appetizers to go with pints of beer.
Philco Bar + Diner: This retro diner serves breakfast all day and other diner classics to go with beer, wine and cocktails. They're open until midnight Fridays and Saturdays.
Barley's Brewing: One of the city's oldest microbreweries, Barley's pairs pub grub with house brews until midnight most nights, and 1 a.m. on weekends. Duck upstairs for drinks and classic arcade games at Brewcadia.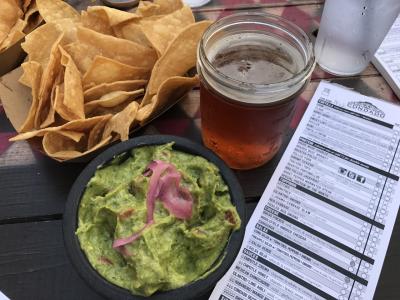 Condado Tacos: Like its downtown counterpart, the Short North Condado serves build-your-own tacos and drinks every day until 2 a.m.
North High Brewing: While they're not serving food, North High Brewing's taproom offers a big roster of house brews until midnight weekdays and 2 a.m. weekends.
 
Italian Village
While there aren't as many late-night hangouts in Italian Village, you can still find great spots for snacks and drinks in the evenings.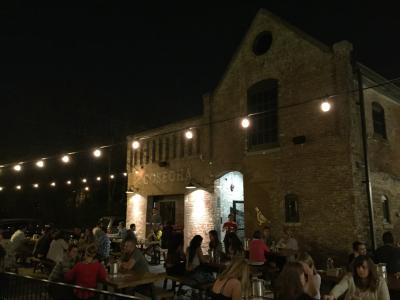 Cosecha Cocina: Serving modern Mexican fare and creative cocktails, Cosecha is open until midnight on Fridays and Saturdays.
Seventh Son Brewing: This city-favorite brewery is open until midnight (and 2 a.m. on weekends), serving their house-made IPAs, stouts and pale ales. They host a regular line-up of food trucks as well (although kitchen hours may vary).
Hoof Hearted Brewery & Kitchen: The kitchen closes at 10 or 11 p.m., depending on the night, but Hoof Hearted says open later serving their delightful and over-the-top beers.