It takes time and patience to build a scene that relies heavily on the tenets of family-like bonds and being able to dance your problems away. This is especially true within the jam scene, where dedicated fans follow their favorite acts across the country, searching for a sense of belonging and people who give purpose to one's life. The Werks have done just that over their decade-plus run of gassing up the Ohio music scene, putting on mesmerizing live performances and curating multi-dimensional music festivals. The annual Winter Werk Out Music and Arts Festival includes all three of those aspects.
"Winter Werk Out is a Music and ARTS Festival," The Werks drummer and event organizer Rob Chafin said. "That being said, we have over 10 live painters being showcased at the event. They will be painting during the duration of the festival—make sure to go say hi and check out their artwork. Many of them have prints for sale, support local artists."
The Werks' festival curation has been an area that has seen wildly creative improvements from year to year, and the Winter Werk Out Festival is no exception. One of the first tastes of festival culture each year, WWO has brought together a wide and diverse variety of music, art and concert-goers to the majestic Bluestone venue—located at 583 E. Broad St.—for the past four years. With lineups that feature an eclectic mix of jam, electronic, dance, reggae, rock, psychedelic, funk music and beyond, there's always something for everyone at this annual event. 
"Winter Werk Out is the first chance to get a proper festival feel out of a Columbus event," Zoo Trippin' lead vocalist and multi-instrumentalist and 2020 WWO performer Tony Casa said. "They place the performance perfectly in the dead of winter, to shake off the seasonal depression. It gives us all a reason to come together when the cold is normally driving us apart." 
With 18 sets over the course of Friday, Feb. 7 and Saturday, Feb. 8, the way you might classify these performances will most definitely differ from act to act. But at their core, the musicians that make up the 2020 edition of Winter Werk Out have a common defining quality: the ability to make live music a most joyous occasion. Chafin has played a pivotal role in supplying the joy that live music and art can create to Columbus.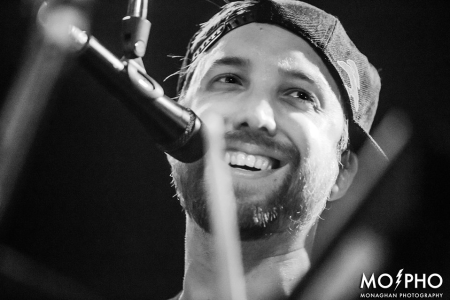 "The music scene in Columbus is growing rapidly, and we are very lucky to live in a city with so many great musicians and fans," Chafin said. "I'm noticing a lot more promoters and music venues popping up in town, which is the sign of an expanding music scene. I think it's great for Columbus and look forward to seeing what it blossoms into as it transforms into a major music city."
The Werks—who have been on a hiatus from live performances once they stepped off the stage at the 10th annual Werk Out Festival—are more than ready to return to the Bluestone main stage for their traditional two WWO sets. Also joining the lineup for the second straight year is EOTO, the experimental electronic offshoot of The String Cheese Incident crafted by Michael Travis and Jason Hann. EOTO is a duo that finds their way into most of The Werks' productions. Their set at 2019's edition of Winter Werk Out entranced and captivated the audience on the main stage Saturday night. 
əkoostik hookah, another act that curates a festival powered by a passionate fanbase, has been a gem of the Ohio music scene since the early 1990s. Originating from a Columbus basement bar, the group has come a long way in cementing themselves as a must-see Midwest act. The other three acts sharing the main stage with the aforementioned musicians over the weekend are the downtempo stylings and modern bass of Thriftworks and a staple of the Columbus jam scene, Mike Perkins.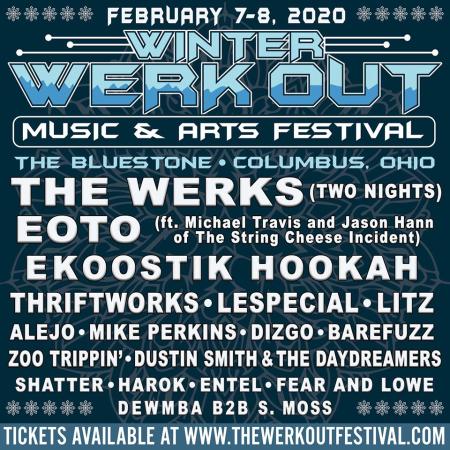 Two Columbus acts that have been in high demand over the past couple years and who will also be joining Perkins at Winter Werk Out are energetic blues-rock band Zoo Tripppin' and rising stars of the Midwest jam scene BareFuzz. Both bands have been included on the roster of Experience Columbus' Acts to Know in 2018 and 2020 respectively. Having a variety of local and nationally-touring performers on the same festival roster speaks volumes about the talent oozing out of Columbus.
"We are so lucky to be a part of a community here in Columbus that supports and values live music and performance," BareFuzz collectively said. "The scene seems to be getting more and more tight-knit as time goes on."
Rounding out the rest of the non-local acts on the lineup are jamtronica groovers DIZGO, horror-themed contemporary rock group lespecial, power funk quartet LITZ, and the psychedelic offerings of Dustin Smith and The Daydreamers. Acts like LITZ and lespecial are no strangers to the Winter Werk Out, while DIZGO will be making their WWO debut this year.
One of the more recent additions to the Winter Werk Out was the inclusion of the What? Stage presented by What? Productions. Arguably no local production company has made a bigger splash over the past year. Going to one of their shows, you'd get the assumption that they've been a staple of the Columbus scene for a decade or so. In its infancy, What? has built a devoted following of local artists and concert-goers throughout the city. The hand-selected DJs that will be lighting up the What? Stage include Shatter, Harok, S. Moss, Dewmba, Entel and Fear & Lowe.
"Ryan McKee and our friends at What? Productions are a perfect example of the up-and-coming promoters in town who are doing big things," Chafin said. "What? Festival is a wonderful showcase of the music and arts scene here in Central Ohio. I like how they are focusing heavily on the art installation side of things. I'm stoked to see them continue to crush it and bring great events to Columbus."
One of my first excursions into the Columbus music scene was the Winter Werk Out in 2017, and I've treated it like an annual family reunion of sorts ever since. The Werks have done an amazing job at making Columbus a destination for widely respected music festivals, and Winter Werk Out has been one of the driving forces helping to put our city on the map as a haven for live music.
"They truly bring together a network of performers and droves of dedicated fans," Casa said. "No scene has more die-hard fans, so we are very glad that Rob and the good folks at WWO allowed us to infiltrate their scene with cutthroat high octane rock."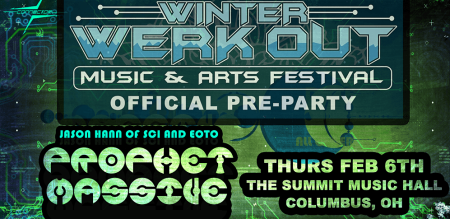 There is still time to purchase passes to Winter Werk Out 2020. Single-day passes will cost you $22.50, while a two-day pass will run $39.50 before fees. Tickets can be purchased on Eventbrite. Set times for both days can be found on the event's Facebook page. Music starts at 7 p.m. on both Friday and Saturday. If that's not enough WWO fun for you, there will be a pre-party show at The Summit—Chafin's latest project and local venue venture—on Thursday featuring Prophet Massive (Jason Hann from The String Cheese Incident/EOTO), Echoes of Atlas, Baccano and Creation Station. Tickets for the pre-party show cost $9 and doors will open at 8 p.m.
--
Chafin would also like to give special thanks to the following for helping make Winter Werk Out 2020 a top-tier production: Kenny Holmes of promotions company TK Pro, The Krew who help us produce the event: Jackie, Sky, Oakley, Jamebo, Dustin, Cody, Mark, Luke and many more, the marketing teams of Chris Salvato and Cam Elkins from Weird Music and Dave Weissman from Musical Earth, Cam and Hana for bringing in top-notch live painters for the festival, and Ryan McKee and What? Productions for producing the DJ Stage.
Rob Chafin photo by Monaghan Photography