This post is written by Nick Dekker, blogger at Breakfast with Nick and author of a book all about breakfast in Columbus. You can follow him on Twitter @BreakfastwNick.
With the start of classes at Ohio State, the neighborhood is a hubbub of activity once again. Throughout the year, many people are drawn to Campus either because they work or attend classes there, or they're visiting for conferences, arts, and athletic events. Up and down North High Street, visitors and residents can find all sorts of local eats to explore!
Of course, cafes and cafeterias abound on campus, but that doesn't mean they're without character. The most notable one, perhaps, is Sloopy's Diner in the Ohio Union. Sloopy's captures the feel of the classic diner, serving big portions with true Buckeye spirit.
In the lower level of the Wexner Center for the Arts is Heirloom Cafe. Open to the public, Heirloom crafts salads, burritos, and sandwiches using local and seasonal ingredients.
For big meals, seek out Ethyl & Tank behind the Newport Music Hall. Ethyl & Tank serves as a coffee shop, a bar, a lunch and dinner spot, and a weekend brunch haven. Up the road the new Chop Shop offers a big menu of burgers. On Neil Avenue Hang Over Easy employs a wry sense of humor to a menu French toast, chicken and waffles, burgers, and more. At Hudson and High, classic diner Jack & Benny's serves omelets and pancakes to hungry crowds.
Of course, a sweet treat is in order from time to time. Buckeye Donuts has been a favorite stop since it opened in 1969. The old school donut shop serves breakfast sandwiches and gyros, too. Down the street The Little Donut Shop (operated by the same folks behind The Big Bar upstairs) covers mini cake donuts with fun toppings like crushed Oreos, bacon, and gummy worms.
Campus is also home to ethnic eats like Chinese at Moy's, a hole-in-the-wall eatery known for Cantonese staples. Close by, Red Chili Asian Kitchen features Szechuan specialties.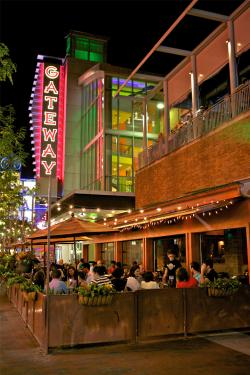 Inside the Gateway Film Center is the Torpedo Room, which serves a fine selection of craft beer, cocktails, pizzas, nachos, and desserts.
Students and alumni will have great memories of the classic watering holes and shops around campus. Pizza needs are met by Adriatico's and Catfish Biff's, both rustic spots serving fried food and giant pies. Or there's always-favorite Hounddog's Pizza, with their famous Smokin' Joes crusts.
What are your favorite campus-area spots?