July 4 celebrations are pinnacle summer events every year, but in the age of COVID-19 many have been cancelled or significantly scaled back to help slow the spread of the virus. It was big news in Columbus when Red, White & BOOM!, annually one of the largest fireworks displays in the Midwest, cancelled all in-person programming and moved to a four-night television and digital event to air on NBC4.
While the city's mainstay celebration won't have an in-person component this year, many communities throughout Columbus have found ways for celebrations to safely take place this year, and we've rounded them up below.
Bexley
Bexley will be hosting a Front Yard Fourth of July celebration this year, including a virtual 5K, front yard decoration challenge, front yard parade and front yard evening celebration. The parade will take place throughout Bexley streets between 6 and 9 p.m., then the evening celebration will begin virtually at 9 p.m. and will include a presentation of the Bexley Citizen of the Year as well as a broadcast of a fireworks show (with music) from a previous year. Learn more here!
Dublin
Dublin is asking residents to show their American spirit through a number of new neighborhood-based festivities this year. Residents and businesses alike are eligible to win up to $300 in an Independence Day decorating contest; but act fast – entries are due by June 30! In lieu of a traditional parade, individual neighborhoods will showcase patriotic Bike Brigades, and families can take part in the annual Sherm Sheldon Fishing Derby at any Dublin pond as long as photos are submitted by July 4. Get more details here!
Grandview Heights
The City of Grandview Heights will be hosting a patriotic pedalers contest to celebrate Fourth of July this year. Residents are encouraged to deck out their bikes in their best red, white and blue and tag @GrandviewOhio on social media or email submissions by 11:59 p.m. on July 4. Prizes will be awarded for entries in the categories of Family, Girl under 18, and Boy under 18.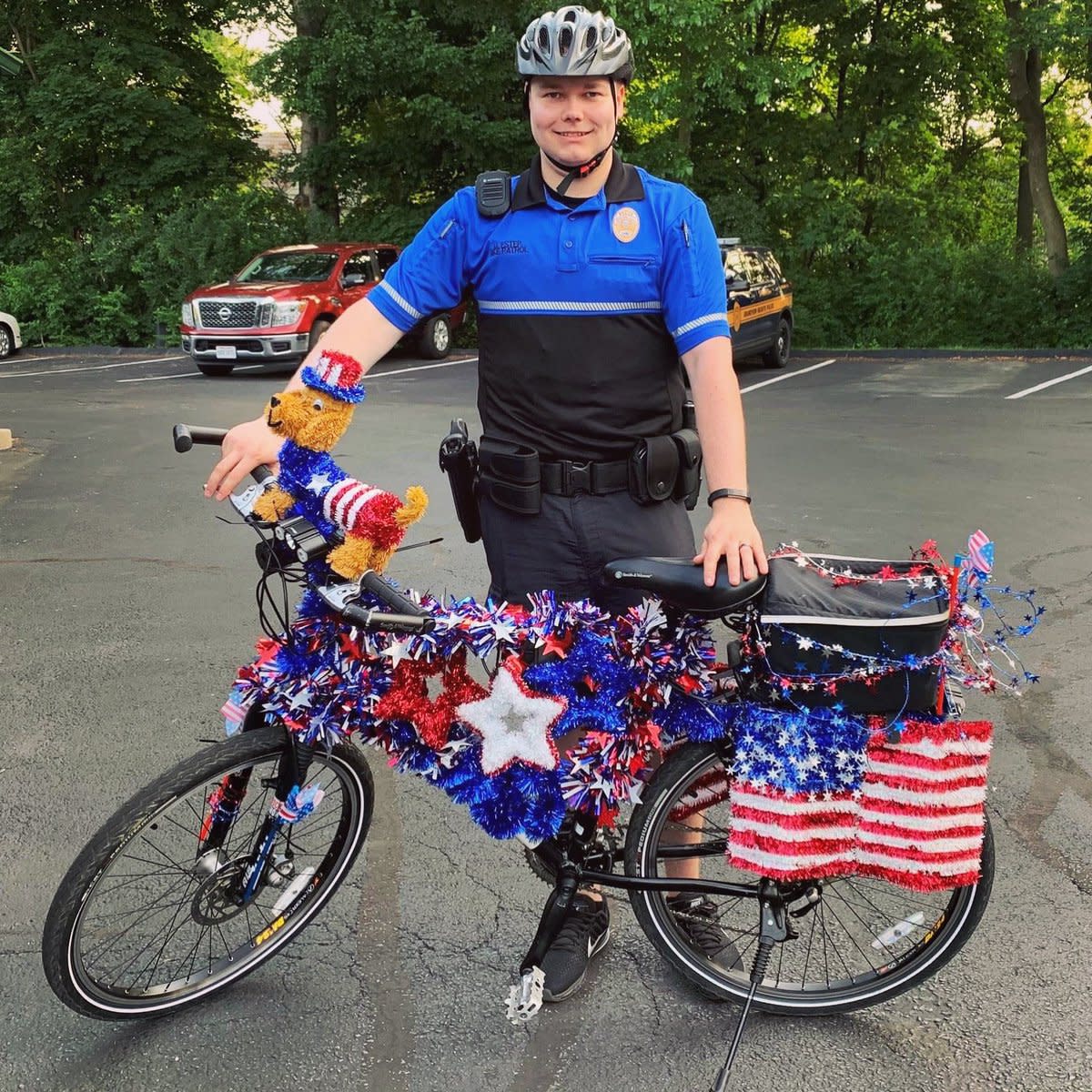 Hilliard
Hilliard's Independence Day celebrations will take place over a number of nights, as the Red, White and Blue Express (featuring Hilliard Division of Police cars, Norwich Fire Department trucks, City of Hilliard vehicles and more) rolls through neighborhoods from June 29-July 2. Residents can also get in on the fun with creative art competitions for chalk art and patriotic displays, sharing recipes for the Hilliard Family Cookbook and a citywide front-yard cookout on the Fourth accompanied by special broadcast of the National Anthem at 8 p.m., performed by Columbus Blue Jacket's anthem singer and Hilliard resident Leo Welsh! Find out how to get involved here.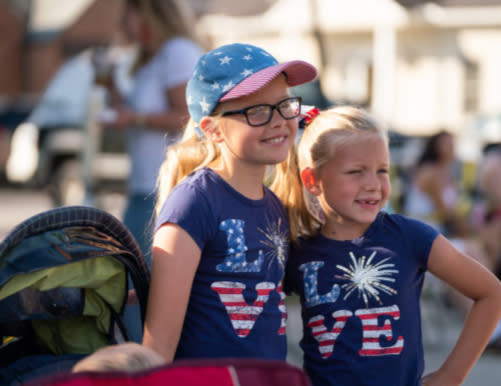 New Albany
The New Albany 4th of July Parade will go on this year, but instead of encouraging residents to gather along a short parade route, it will wind through neighborhoods over a two-and-a-half hour period so residents can enjoy from their homes. Get set up by 10 a.m. and be on the lookout for fire trucks, police cars, popular kids' characters, musical guests, local businesses, local sports teams and more. Find the route here.
Upper Arlington
Outside of downtown Columbus, Upper Arlington is known for having one of the most robust Fourth of July celebrations in the city. Though the activities will be significantly scaled down this year, there are still plenty of opportunities to show your pride. UA families can start their day with wake up calls from Upper Arlington Civic Association volunteers at 6:30 a.m. then get ready for this year's parade, which will take place along two routes covering about 25 miles and designed to be viewed from resident front porches, as opposed to the traditional two-mile route along Northwest Blvd. Find out additional details on this year's celebration here.
Village of Obetz
Obetz is the only community in Columbus that will have a live fireworks display this year, however, the show will be designed to watch from home as opposed to the famous Fortress Obetz fireworks show as is tradition. Learn more here.
Westerville
The Westerville Rotary Club has planned an exciting new celebratory opportunity this year with its new Lights of Liberty drive through light show, taking place from July 1-5 at the Westerville Athletic Complex (325 N. Cleveland Ave.). In partnership with Butch Bando's Fantasy of Lights, known for incredible Christmas displays, this drive-through digital light show will cost $10/vehicle with proceeds supporting Honor Flight Westerville and SEALKIDS. The City of Westerville will also deploy a small processional of city vehicles through neighborhoods in the community to help families celebrate the holiday. Get tickets and details here.
Worthington
The City of Worthington will be hosting a homefront 4th celebration this year, beginning on July 3 with a big backyard campout. Oh July 4, start the day off by with a virtual Pledge of Allegiance led by the Worthington Fire Department on Facebook, have lunch with your neighbors (social-distance-style) on your front lawn at noon, then get active with the family and head out for a patriotic bike ride at 3 p.m. before concluding the evening with a luminary walk from 9-11 p.m. in place of traditional fireworks show. Throughout the weekend, be sure to share photos of your celebrations on social media using #Worthington4thFun for a chance to be featured on the City of Worthington social media channels throughout July. Get all the details here!
Show us how you're safely celebrating with friends and family this year by tagging @experiencecolumbus and including #expcols in your social media posts!
Find even more ways to celebrate:
If your community isn't on this list, consider checking out National Veterans Memorial and Museum, which will be open on July 4 this year! This safe, controlled environment provides the opportunity to reflect on our country's history, from the Revolutionary War to today. The facility's beautiful Memorial Grove is also open daily from dawn until dusk for outdoor contemplation and rememberance of those who fought and sacrificed for our freedom.