This post is written by Nick Dekker, blogger at Breakfast with Nick and author of a book all about breakfast in Columbus. You can follow him on Twitter @BreakfastwNick.
We've been encouraging you this year to explore new neighborhoods in Columbus, and now we're here to share some spots to try in Franklinton. The neighborhood just west of downtown, across the Scioto River, has been experiencing a renaissance of late, with new housing, businesses, and cultural spots like the Idea Foundry and Glass Axis setting up shop. Here are some beginning spots to explore:
Strongwater Food & Spirits has established a strong presence in the district. The location is hard to beat, in the lobby and offices of an old manufacturing building on West Town St. The menu boasts small plates, flatbreads, sandwiches, and entrees paired with classic cocktails and craft beers. Strongwater also features a large event space with its own separate bar; it's perfect for concerts, parties, and performances.
Strongwater shares a building with 400 West Rich, a collective of artist studios and galleries. The building also hosts the 400 Farmers and Makers Market every second and fourth Saturday of the month. The market is perfect for strolling to pick up hand-made goods and local treats. 
Tommy's Diner is a Franklinton classic. Tommy and Kathy Pappas and their sons have been serving breakfast and lunch in their colorful diner for decades. Long-time customers love the omelets, waffles, sandwiches, and gyros.
Another neighborhood classic is Phillip's Original Coney Island. It's hard to beat over 100 years of serving coney dogs and bologna sandwiches! There are other old school joints along West Broad Street too, like Josie's Pizza and Spaghetti Warehouse.
The aptly named Rehab Tavern was revitalized in recent years. It's since become a favorite watering hole with bar snacks and paninis.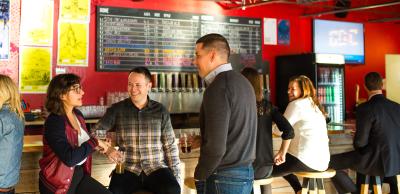 Across the street from Strongwater is the new Land-Grant Brewing Company. Named for Ohio State's status as a land-grant university established by the Morrill Act in 1862, the brewery features a sports theme. Home and guest drafts are recorded on a giant scoreboard, and their walls feature pennants from all the original land-grant universities. They brew a variety of styles, which you can enjoy with food trucks parked out front. Free tours are offered Saturdays at 3 p.m.
Where do you like to dine and Franklinton?