You can work up quite a hunger and thirst shopping at Easton! If you're exploring Easton Town Center, you'll find plenty of options, from patio dining at Brio and burgers at Five Guys, to loaded pizzas at California Pizza Kitchen and pub fare at Fado, to sipping beers at World of Beer or a glass of pinot noir at Cooper's Hawk Winery. Here are a few culinary highlights of the mall, including some locally owned gems.
There are plenty of spots for comfort food around the mall, whether you want classic pub fare at The Rusty Bucket, towering burgers at FlipSide, or gooey grilled cheese sandwiches at Melt Bar & Grilled.
For shoppers on the go, fast casuals will fill you up with fresh fare and get you on your way. Fusian lets you create your own sushi rolls, while Bibibop Asian Grill customizes Korean rice bowls. Zoup can warm you up with soup, while Zest Juice Co. will top you off with fresh-squeezed cold press juices.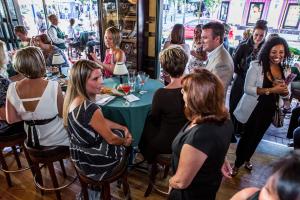 Edamame crafts flavorful bowls of ramen and fresh-made sushi. Cafe Istanbul features Turkish fare and other Mediterranean favorites like falafel and kebabs. Local favorite Northstar Cafe has a beautiful location at Easton; it's a wonderful spot to enjoy veggie burgers and ricotta pancakes.
Easton offers many fine dining options, too, including Mitchell's Ocean Club, a premiere spot for steak and seafood. There's even a farmers market on Thursdays from 4-7 June-August.
And who can forget ice cream? Graeter's has a stand inside the Easton terminal building, while the Jeni's Splendid Ice Creams store greets you just out the north side of the terminal.
And there's plenty more! Just check out the dining section of Easton's site.