Some of my top spots live in Italian Village, an booming neighborhood just east of the Short North Arts District. Italian Village continues to grow and be a prime location for up and coming Columbus businesses.  While this is not an all inclusive list, today I am sharing my picks for how to spend a day in Italian Village.
You cannot talk about Italian Village without talking about Fox in the Snow.  Probably the most instagrammed place in this city (no joke), this spot is one you have to check out. The coffee is fantastic, and that's important, but what really makes this place stand out is the PASTRIES. Holy yum. Every single item I've had the privilege to taste from here has been unreal good. They are famous for their cinnamon rolls, but my favorite so far has been the biscuit with house made jam.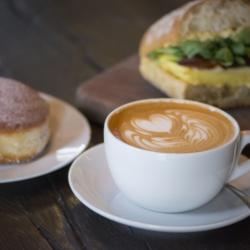 STUMP has got to be one of my favorite businesses in Columbus. If you want to hear me rave about them for a whole post, you should read my recap from when I went there and had an incredible brunch. STUMP sells the coolest looking plants you've ever seen, and is simply a beautifully curated space to spend time in. They also do a series of events like the brunch I attended or workshops where you can get your hands dirty and create things. If you spend any time in Italian Village and don't make a stop here, you are doing it wrong. My husband and I just bought our first plant here. A snake plant that I am just obsessed with. Emily (one of the STUMP owners) will be happy to know we're doing great and taking care of it just as she instructed. 
Seventh Son Brewing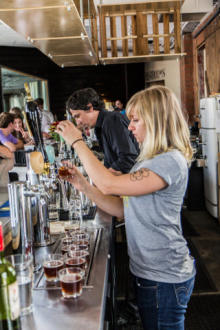 This place sits right next door to Fox in the Snow, so you may as well stop here next. This brewery is consistently ranked in the top lists of anything and everything and for good reason. Their beer is top notch, cocktails are tasty, and have one killer set up with open air seating in the front and a full patio out back.
The Market Italian Village
By this point, you are most likely ready for a good meal.  Treat yourself with a trip to The Market Italian Village.  The Market is a lot of things: a shop, a deli, a wine and beer store, and also a restaurant serving only the freshest and most local ingredients they can find.  I've also heard they have an incredible brunch, and that is surely on my "to do" list.  But when you go, get the baked feta and one of their unique pizzas and you (and your tummy) will be very happy.
Hoof Hearted Brew Pub and Kitchen
This spot is new to the Columbus brewery scene, and has been welcomed with open arms. Headquartered in Marengo, Hoof Hearted came to Columbus to expand their reach and opened this brewpub and kitchen. The approach is eclectic and a little tongue in cheek (I mean, look at the name. Or at least say it out loud to yourself and you'll see what I mean). The space is bright and has plenty of outdoor seating as we enter into perfect Columbus weather season. My drink of choice there is the Rose Gose but the Belloq is also a crowd favorite.