This summer, there's a great way to pack a ton of fun into just one weekend in Columbus. We've put together the Cbus Sights package, which includes tickets to five of Columbus' premier attractions, plus overnight stays at the Drury Inn & Suites for as little as $90 a night! So here's your hour-by-hour itinerary of how to make the most of this weekend adventure.
Day 1:
Noon: Arrive in Columbus and treat yourself to an introduction to the city's thriving culinary scene at the North Market. Sample foods from around like world, like Tibetan dumplings, Polish pierogis and southern style hot chicken. And please, save room for a cone at the original location of Jeni's Splendid Ice Creams. Pack a few snacks for your big day at the Columbus Zoo and Aquarium
1:30 p.m.: Depart for the Columbus Zoo and Aquarium.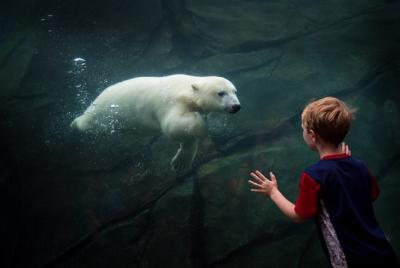 2 p.m.: Arrive at the Columbus Zoo and Aquarium. Make your first stop at Asia Quest, where you can find elephants, tigers and some incredibly active markhors - a type of wild goat native to the Himalayas. At 3, check in on the penguin feeding. Make your way through the Congo Expedition area, where you'll find okapis and an incredible gorilla habitat. The Australia and the Islands area brings a kangaroo enclosure you can walk through, lorikeets you can feed and the brand new Tasmanian devil habitat. 
Next, stop by the aquarium and Shores area for an indoor respite. Check in on the manatees and watch schools of rainbow colored fish in giant tanks. Then, head to Polar Frontier to see swimming polar bears. Finally, check out the Heart of Africa, where you can watch cheetahs race, feed romaine lettuce to giraffes and get super close to a pride of lions. 
For dinner, check out Bridge Park in Dublin, not far from the zoo. Options include Fukuryu Ramen, Cap City Diner, Hen Quarter (southern staples,) Condado (tacos and margaritas) After dinner, you can even check out some game bars, like 16-Bit Bar & Arcade (classic video games) or PINS Mechanical Company (duckpin bowling, pinball and more).
Day 2: 
9 a.m.: That was a big day! Take the opportunity to sleep in and then head downtown to tuck into a locally sourced and delicious breakfast at Skillet in German Village.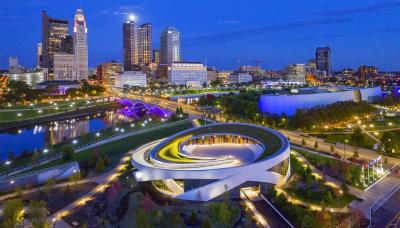 10 a.m.: Start your morning off with a visit to the National Veterans Museum and Memorial, the first and only space dedicated to veterans of all conflicts and branches of service. Storytelling takes precedence over artifacts, so you learn the path of America's service members from a selection of video interviews with veterans themselves. At times humorous, harrowing and gut-wrenching, the experience is capped off with a reflective outdoor space stretching from the memorial's green rooftop to the Memorial Grove next to the building. You'll want some time to process what you've experienced.
Noon: Walk a few blocks over to High Street and pick up the free CBUS downtown circulator. It's a free way to get around Columbus' downtown neighborhoods. Buses come every 10-15 minutes. Head south to the first stop in the Brewery District, and find a table at Arepazo Tapas and Wine for some South American fare or Rockmill Brewery for elevated pub food and outstanding Belgian style brews.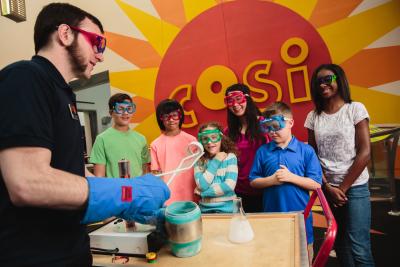 1:30 p.m.: Hop back on the CBUS and get off at Broad Street, and walk across the Scioto River to COSI, an amazing science museum filled with hands-on exhibits. Through a partnership with the American Museum of Natural History (AMNH), COSI is also home an incredible Dinosaur Gallery and a rotating exhibition from AMNH. This summer, it's Mythic Creatures, an exploration of the natural history and  of mythological beast such as unicorns, mermaids and dragons. 
Catch a movie at the National Geographic Giant Screen Theater, explore space at the largest planetarium in the state, and don't miss the opportunity to watch rats play basketball. If you're truly adventurous, ride the high wire unicycle above COSI's massive entrance hall.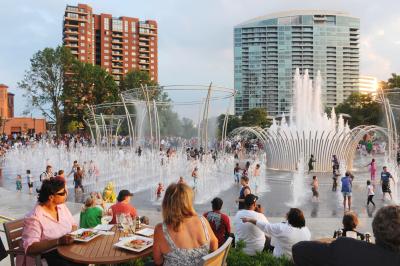 5 p.m.: You're in the perfect location to explore the Scioto Mile, Columbus' newly enhanced riverfront parks! The interactive fountains at Bicentennial Park make for a good stop on a hot day, and the park's trails connect to more than 25 miles of multi-use paths along the Scioto and Olentangy rivers. For $8 a day, you can rent a CoGo Bike (there's a station at Bicentennial Park.) Grab a selfie with one of the three very photogenic deer statues. 
7 p.m.: You've surely worked up a big appetite, so head to the Short North Arts District for an evening of culinary adventure. Choose from the luxe Del Mar or tuck into a feast with cocktails crafted with spirits made on-site at Service Bar, the restaurant of award winning distillery Middle West Spirits. You might as well treat yourself to a nightcap - choose from the new upscale rooftop Lincoln Social, classic cocktails at MOUTON or a beer from Seventh Son Brewing Co.
Day 3: 
9 a.m. Let's dial take things a little easier on your last day in Columbus. Get a leisurely breakfast at Pistacia Vera in German Village. This spot presents classic French patisserie in the most beautiful colors you can imagine and stellar coffee service, which add up to a remarkable and light breakfast.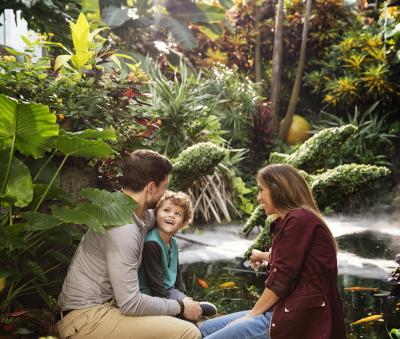 10 a.m. Take in the indoor and outdoor botanical art at Franklin Park Conservatory and Botanical Gardens. Explore the huge new Children's Garden, which let's kids play in nature hands-on, climb into a huge bird nest and explore the various habitats of Ohio. Inside, you'll find the Pacific Island Garden, where butterflies are released continuously, the Madagascar desert and dozens of brightly colored Chihuly art glass installations.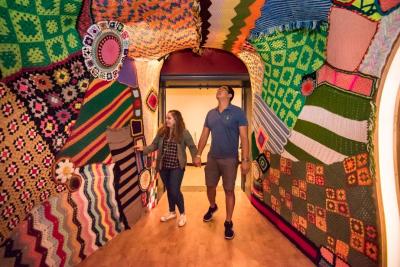 Noon: Head west on Broad Street to the Columbus Museum of Art, and make your first stop in Schokko Cafe for lunch. Then, explore the bright new modern art wing, and then let your creativity come to life in the Wonder Room, which currently includes interactive art projects around the theme of textiles. Explore a giant blanket fort, weave a tapestry, and design a fashion line with snap-on components made by local designers. 
2 p..m.: We're sorry to say it, but it's time to head home, unpack your suitcases and start planning your next trip to Columbus.