Need a gift idea for a friend, family member or coworker? The Experience Columbus visitor centers have many unique gifts that appeal to all types of people:
Fitness Fanatic
Help your active friends work out in style while paying homage to their favorite local pizzeria with a Will run for Donatos tank. It pairs perfectly with a #lifeincbus water bottle to keep them hydrated during their run…to Donatos.
Will run for Donatos tee
Life in Cbus water bottle***
OSU Diehard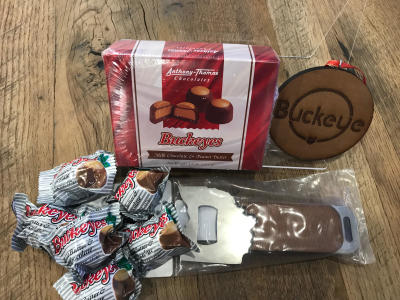 If you need a gift for an old school Buckeye fan, the Griffin Hollow bottle opener or Buckeye ornament are just for you! Made from Ohio Stadium's former wooden bleachers, their products are sustainable and literal pieces of Buckeye history. Essential to any OSU gift pack are the famed Anthony Thomas Buckeyes. They also help you explain what the heck a Buckeye is to out of towners.
Griffin Hollow Ohio Stadium bleacher bottle opener
Griffin Hollow Buckeye ornament
Anthony Thomas Buckeye candie
Columbus Champion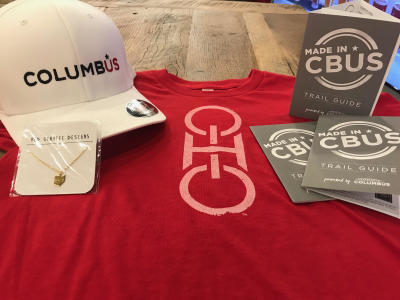 We all have that friend who is the unofficial mayor of the city. Help them show off their pride in style with a Columbus ball cap, Red Giraffe Designs Ohio necklace or a State of Devotion Ohio link tee. Give the gift of a local shopping spree with a Made in Cbus Trail guide. When they shop at least 4 local businesses in the guide, they'll receive with an exclusive Made In Cbus tshirt to commemorate the trail!
Columbus ball cap
Made in Cbus Trail guide
The Columbus Ohio Coloring and Activity Book Part II by Katie Barron
State of Devotion Tee
RGD Ohio necklace
Animal Lover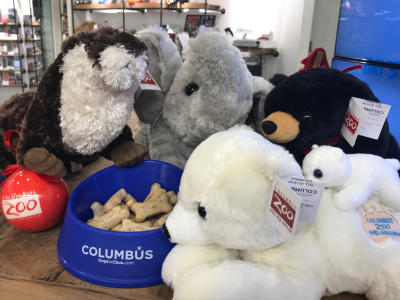 If you need an inanimate gift for an animal lover, we have several items from pushes to postcards from The Columbus Zoo. The DogsinCbus.com food bowl keeps pups nourished and serves as a gentle reminder to check the DogsinCbus.com website for dog friendly events all over the city.
Columbus Zoo plush
Columbus Zoo ornament
Columbus Zoo magnet
Columbus Zoo postcard
Dogs in Cbus food bowl
Caffeine Fiend
For someone who always has a cup of coffee in their hand, they can now show off their love of coffee and Columbus with the Columbus coffee tumblr. Pickup a Columbus Coffee Experience Trail guide to get them to explore all the great local coffee shops in the city. After they visit a minimum of 4 locations, they will be rewarded with a free Coffee Experience tshirt! Make a gift set by adding a branded Coffee Experience mug or Coffee Experience candle.
Columbus to-go mug
Coffee Experience Trail Guide
Coffee Experience Candle
Coffee Experience Mug
Your Foodie Friend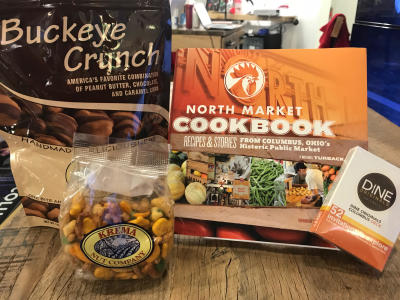 Whether you need a gift for an Elite Yelper or someone new to the area, we have plenty of items for foodies. The Dine Originals card deck features $10 coupons to every Dine Originals restaurant plus area attractions. For the culinary inclined, the North Market Cookbook has recipes and stories hailing from Columbus' favorite market. Krema Nut Co. snacks are ALWAYS a big hit! Come in and grab some of their Championship Mix or Buckeye Crunch.
Dine Originals Deck
Krema Nut Co. Championship Mix
Krema Nut Co. Buckeye Crunch
North Market Cookbook: Recipes and Stories from Columbus, Ohio's Historic Public Market by Michael Turback
Local Bar-fly
Get the gift for the friends who can say the term "Mixologist" with a straight face or have been making beer before it was cool. We have a variety of glassware from Ohio rocks glasses to Columbus skyline beer steins to Columbus flasks. For winos, we have custom neighborhood map wine stoppers as well as a wood burned Ohio wine glass holder.
Columbus Ale Trail Guide
Ohio Wine Glass
Wine Holder
Wine stopper
Pint Glass
 Ale Trail Candle
Looking for a gift ASAP that isn't a gift card? Now you can buy tickets to local tours and activities on Experience Columbus' website! Choose an activity, select the date and pay with a credit or debit card. It's easy to do and you'll be giving the gift of a fun unique experience they'll always remember!