Drury Hotels
The preferred hotel partner from the Cbus Sights package is Drury Hotels. Drury has locations in downtown Columbus, northwest of the city in Dublin and southwest of the city in Grove City. 
Why stay with Drury
At Drury Hotels, the rate always includes a free hot breakfast buffet, free 5:30 Kickback with hot food and cold beverages and free Wi-Fi.
Drury is constantly upgrading the complimentary food and beverage offerings. Free breakfasts include scrambled eggs, oatmeal, fresh fruit, make-your-own Belgian waffles, potatoes, sausage, pastries, bagels and coffee to start the day for guests and also enjoy a variety of snacks—like salads, soups and more—and cold beverages from 5:30-7 p.m. at the 5:30 Kickback.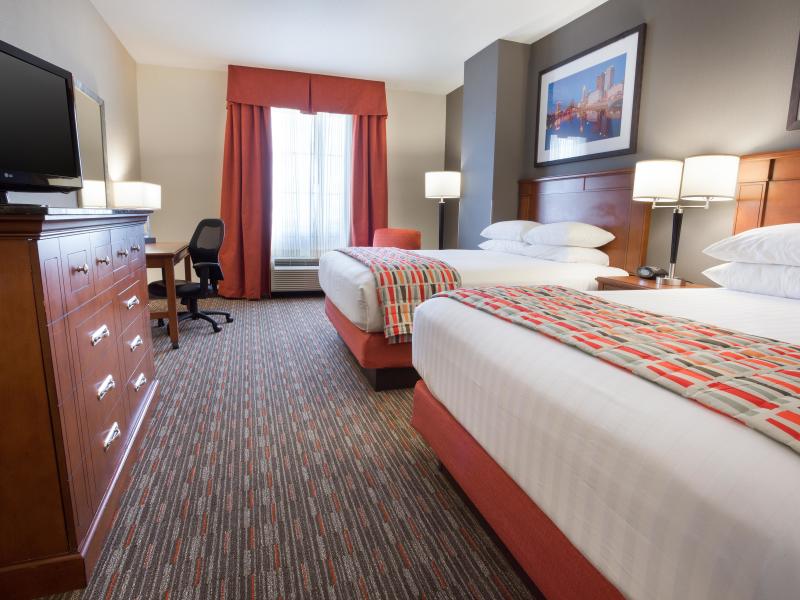 For the 13th year in a row, J.D. Power has awarded Drury Hotels "Highest in Guest Satisfaction Among Upper Midscale Hotels Chains". Drury Hotels is the only hotel chain to achieve this honor for 13 consecutive years. In 2018, TripAdvisor recognized Drury Hotels as a "Most Excellent Hotel Chain" and 97% of eligible Drury Hotels received the TripAdvisor 2018 Certificate of Excellence.
Guests at Drury Hotels can always expect the same level of service and value because all Drury Hotels are owned and managed by the Drury family. For every Drury Hotel, the location is selected by Drury, constructed by Drury, and managed by Drury. Service and value is the Drury brand identity.