National Veterans Memorial and Museum
The National Veterans Memorial and Museum is America's first space dedicated to honoring the sacrifices of veterans of all branches of military service and all conflicts. This new attraction on Columbus' Scioto Mile riverfront brings the stories of veterans to life with interactive exhibits and stunning video testimonials.
Time to visit: 2 hours
Why to Visit This Year
The building itself is an architectural masterpiece, winning accolades from Architectural Digest for its curving lines and unique cast concrete construction.
An open-air rooftop sanctuary and 2.5 acre Memorial Grove offer peaceful spots for reflection after experiencing powerful stories of service.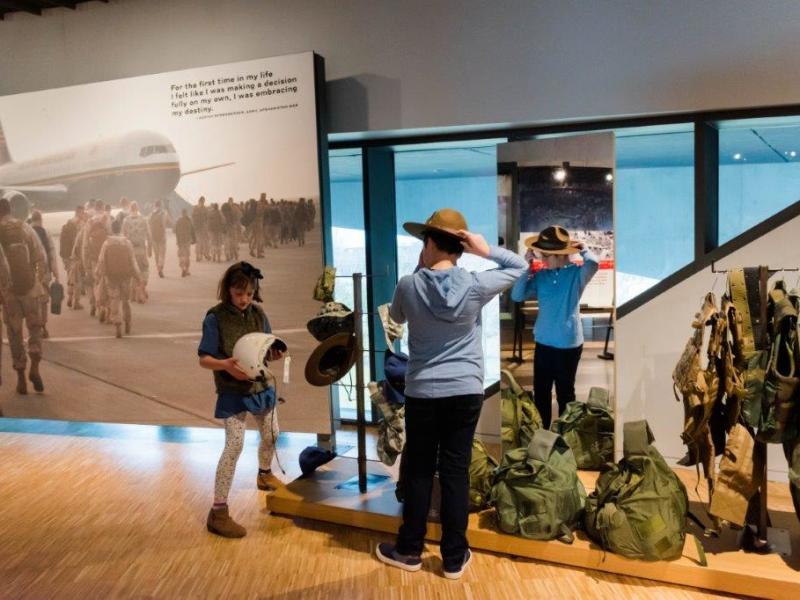 An inaugural traveling exhibit, Light During Wartime, features the moving work of award-winning combat photographer Stacy Pearsall through the end of 2019.
The Remembrance Gallery on the mezzanine level, is a space for reflection and recollection of those who made the ultimate sacrifice, with a warm colorful glow coming through the floor-to-ceiling stained glass installation inspired by military campaign ribbons. The focal point is an "infinity-flag" display, honoring the millions of who died in the name of service to the country.
If military service is part of your or your family's history, you can leave your own story behind at the museum. The Share Your Story space features a story booth where you can answer a series of prompts and questions to create a short video to record your story.