Experience Dedicated® Destination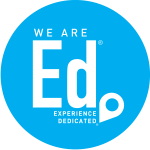 Join other area businesses to bring more visitor business to our community. We're the first in the nation to be officially accredited by The EXPERIENCE Institute to develop a customized visitor-centric program for Greater Columbus. The Experience Dedicated® Destination (EDD) accreditation program is based on best practices and well-defined consumer standards for what makes an exceptional visitor experience.
When you participate in the EDD program, you work with the entire local industry to collect ongoing visitor data. Your business will receive trend data and overall insights on your sector of the hospitality industry. This data will inform customer service and improve the overall visitor experience throughout Greater Columbus, resulting in increased visitation, repeat visits and enhanced spending. It's a win-win. And, there is no cost to participate.
How does this work? Complete the Count US In form below. Then, we'll contact you with information on how to encourage customers to complete a visitor survey. We'll provide the tools. It's just that easy.
View this short video "It Starts with a Survey" to understand how visitor survey completions have helped to make destination improvements

As part of an initiative from the EDD program, our transportation partners helped us to develop a new Columbus transportation guide. Getting around the city is easy, and there are lots of great options available - from public transportation to car sharing services. Visit getaroundcbus.com or view the printable transportation guide.
Getting started after you submit the Count US in form below: