Food in Columbus
Columbus is a foodie force to be reckoned with. The capital city's incredible culinary scene features top-ranked chefs, a rich farm-to-table movement, one-of-a-kind restaurants and creative artisan desserts, beers, wines and spirits. Consistently gaining national recognition, there are more than 100 restaurants in walking distance of the convention center with the largely local options ranging from fast-casual to fine-dining and everything in between.
Coffee and Ale Trails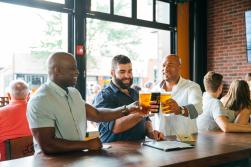 In recent years, Columbus has experienced a boom in craft coffee and beer, and it's easy to navigate through all the delicious, local brews the city offers in two experiences—the Columbus Coffee Trail and the Columbus Ale Trail. Participation is simple: Pick up a passport for either trail at an Experience Columbus Visitor Center, conveniently located in the Greater Columbus Convention Center, in the nearby Arena District or at any participating location. Then, patronize at least four establishments listed, get a stamp and redeem at an Experience Columbus Visitor Center to claim a souvenir of the expedition.
Beyond Local
Easy access to distinctive, seasonal ingredients produced in the region has elevated many Columbus chefs, including well-known James Beard Award-winning cookbook author Jeni Britton Bauer, owner of nationally loved Jeni's Splendid Ice Creams. One of the things that makes Columbus' dining scene unique, beyond one particular type of food, is the way in which its numerous farm-to-table offerings are collaboratively prepared using hyper-local ingredients.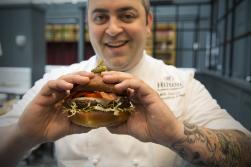 Chef Bill Glover of the Hilton Columbus Downtown's Gallerie Bar and Bistro made this collaboration the focal point of an all-Ohio dinner he prepared at the James Beard House in New York City. Gin and vodka from Columbus' Watershed Distillery were featured during the cocktail reception. Courses served throughout the evening featured pork, chicken and rabbit from nearby Anderson Farms, which uses Watershed's spent grains as feed. And one of the evening's beverage pairings featured a custom beer from the city's Seventh Son Brewery aged in a Watershed bourbon barrel.
Can't Miss Tastes
Since 1876, the historic North Market has served Columbus' demand for fresh and local foods. Nearly 40 purveyors offer organic produce, sustainably sourced fish and meats, authentic ethnic cuisine, flowers, a seasonal farmers market, wine, beer and unique gifts. Here, just one block from the convention center in the heart of downtown, it's easy to get a taste of something delicious from Little Eater, named one of the 50 best places in the world to eat your vegetables by the Washington Post, or at the first Jeni's Splendid Ice Creams location.
One of the city's most successful and famed restaurateurs, Cameron Mitchell has a diverse offering of concepts from his restaurant group along High Street in the Short North Arts District, just steps from the convention center.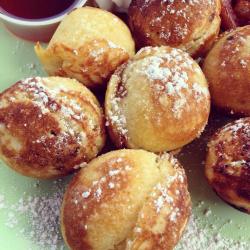 Breakfast is big in Columbus and no trip would be complete without a Katalina's Nutella-filled pancake ball or an oversized cinnamon roll from Fox in the Snow Café.  Both are unforgettable experiences for the taste buds.
Discover more flavors of Columbus.
What Critics Are Saying
"If you can't find excellent places to eat [in Columbus], you're no food enthusiast." – Food Republic
"Nestled in Columbus, Ohio, there are restaurants that rival New York City's food scene." – The Daily Meal
 "Columbus – Ohio's capital city – is not an acquired taste. You love it on sight, and you walk its streets in search of the next burst of flavor." – Pittsburgh Magazine
Columbus is one of 6 Great Cities for Food Lovers – Wall Street Journal