In Columbus, we're proud of our innovative, smart community, from large-scale economic development to our local businesses. We strive to be entrepreneurial and creative on every level, and when it comes to meetings and conventions, we're always looking for inventive but practical methods that will help meeting planners boost and optimize attendance at their events. Geofencing and retargeting are two functions of audience location targeting we've experimented with to great success, and if you aren't using them for your events right now, read on to learn why we think you should be.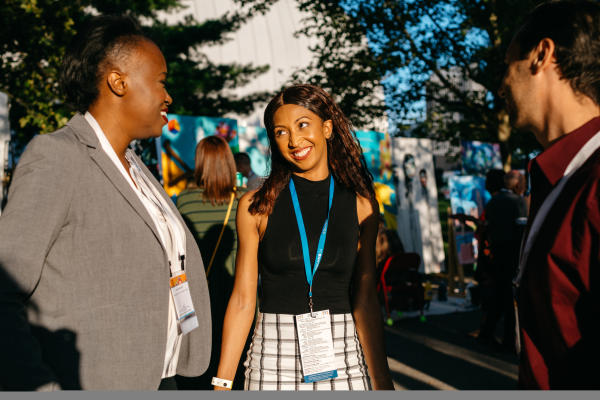 Geofencing 
Geofencing is a tool you can utilize via your social media channels – everywhere from LinkedIn to Facebook – to promote event attendance. With a little effort behind the scenes, you can catch and begin to secure potential attendees months in advance of your event when they land in your anticipated geofence. Essentially, this method of attendance building starts with the creation of a virtual fence around a geographic location (like conference hotels or convention centers), encircling a specific area and anyone who fits your criteria within it. Once within your geofence, your ad or notification is triggered, sending them your event promotion while the subject matter is top of mind.  
When it comes to meetings and conventions, geofencing strategies that are planned ahead of time can be especially practical. Using geofencing months ahead of your meeting allows you to capture conference attendees who are at a different event (for example, your smaller education conferences) and serve them an advertisement promoting your annual meeting. Learn more about geofencing here.  
Why use geofencing? 
With this type of targeting strategy, you're ensuring that your social ads are landing in front of those who are most likely to follow through and connect with your ads. This optimizes your ad spend and increases the likelihood that your ads will be successful.  
Retargeting 
Audience retargeting is another invaluable tool (like geofencing, which can be used on a variety of platforms) that meeting planners can use to build attendance at their events. Retargeting allows you to advertise to the same audience targeted in your geofencing ad even after they have left the location. This will enable you to interact with potential attendees in the weeks and months leading up to your meeting. Learn more about retargeting here.  
Why use retargeting?  
Retargeting secures those who have received your messaging by duplicating the audience of your initial ad, you can capitalize on curiosity and reminds the viewer about your event via another ad. This makes it likely that you'll be counting that duplicated audience among your event registrants in no time at all. 
Client Services for Your Meeting in Columbus 
Love it or hate it, social media plays a role in nearly all our lives, and it can be an extremely helpful tool for optimizing your event's attendance. In fact, Experience Columbus offers these attendance-building methods as part of our optional client services; these advertising techniques will be offered in a scalable format suited to each event. For more information, we hope you'll reach out! You can contact Heather Back, Director of Meeting and Conventions Marketing, at hback@experiencecolumbus.com.