This year, PCMA EduCon is taking place in New Orleans, bringing our industry's vibrant, development-minded community together in advance of PCMA Convening Leaders in Columbus in 2023. As we finalize details for Convening Leaders, the Columbus community grows ever more excited to welcome the PCMA community, in person, to our own city. Columbus is vibrant, alive and forward-thinking, and we're open, ready and waiting to introduce Convening Leaders attendees from across the nation to our "Live Forward" spirit. 
Live Forward encompasses our progressive and resilient people, our unique places and our innovative businesses. From the nearly completed 1,000-room Hilton Columbus Downtown expansion to local business owners large and small, attendees will find a community that couldn't be more eager to provide them with a unique, special experience. In fact, we're setting up an activation at EduCon 2022 that celebrates, as an industry, how far we've come and how resilient we've been over the last few years — and to remind our fellow industry members just how much we're looking forward to welcoming them in our own city.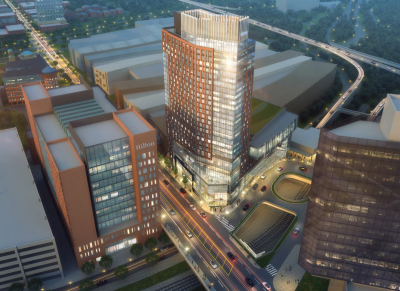 A rendering of the soon-to-be-completed expansion of the Hilton Columbus Downtown
How We're Bringing Innovative, Community Art to New Orleans
At the Experience Columbus booth at EduCon, attendees will find partially completed murals outlined by local Columbus artist Jeremy Jarvis, murals that were first brought to EduCon 2021 in Phoenix. Incorporating the themes of Hope, Unity and Resiliency, and designed so that event attendees can contribute to the completion of the mural, this innovative art project is intended to inspire positivity and unity, depicting images like the lotus. It memorializes the shared experience of COVID-19, and it's our goal to provide a moment of peace and mindfulness as attendees pause to add to the paintings.
The attendees at EduCon 2021, EduCon 2022 and Convening Leaders 2022 have or will have contributed to the murals by the time they are unveiled in 2023, making this a truly community-wide initiative. The Greater Columbus Convention Center, host site of Convening Leaders 2023, will showcase the completed murals right here in Columbus during the event, closing the loop on this multi-year, multi-destination project that we hope brings encouragement and unity to our fellow travel and tourism industry members.
So, EduCon 2022 attendees, be sure to add to this piece of innovative industry history by contributing to the final mural (Resiliency) in New Orleans! We might even have something bubbly for you to sip while you paint and leave your mark (champagne, anyone?). We hope attendees will find a calm, tranquil moment as they consider and contribute, and we can't wait to display the finished product at the Greater Columbus Convention Center next year.