Research shows that women in America make around 82 cents compared to every dollar earned by their male counterparts.1 This is known as the gender wage gap.
Columbus' activation at PCMA's 2020 Convening Leaders focused on inequities for women in the workplace and what PCMA's community of business event strategists can do within our industry to reduce these inequities in the meetings, conventions and events we manage.
To unite the community behind this cause, we invited Convening Leaders attendees to sign the Equity Pledge, committing to take four accessible steps to help ensure equity when planning business events.
The activation was modeled after the work of the Columbus Women's Commission (CWC), which has led our community in a collaborative effort to achieve workplace equality for women by developing the Columbus Commitment, a voluntary, employer-led initiative to close the wage gap in Columbus.
When company leaders sign the commitment, they're agreeing to enact policies, including pay equity and family leave, and provide opportunities such as mentorship programs that help women succeed in their organizations.
When Mayor Andrew Ginther first launched the Columbus Commitment, he and the CWC hoped to have 15 organizations on the stage with him to sign the pledge. More than 60 organizations signed that day.
By the time we did our activation at Convening Leaders, 253 local companies had signed the pledge, including several behemoth corporations such as Nationwide Insurance and L Brands, which represent a sizable portion of Columbus' workforce.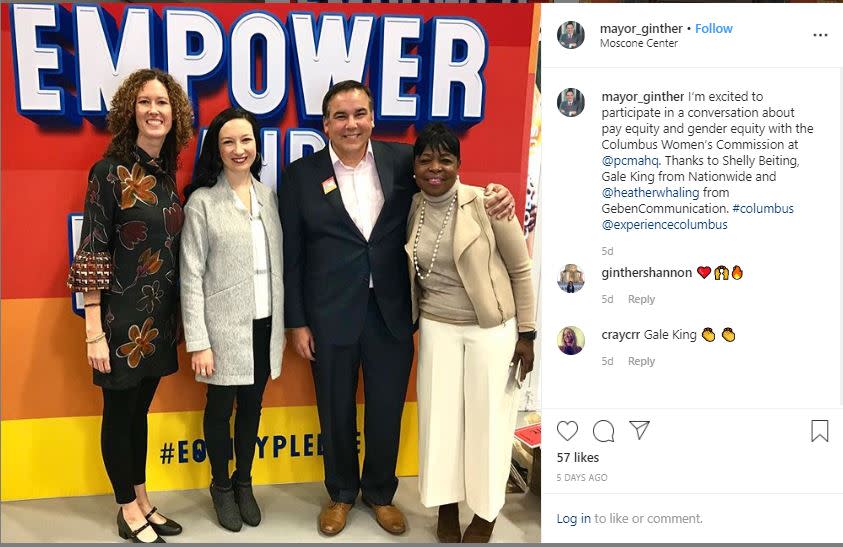 ACTIVATION WITH A PURPOSE
The goal of the activation was to focus our team's efforts on something bigger than the standard "Columbus facts and figures" trade show-ware. We wanted to tell a story that would dig deeper into the character of our city – and to test the idea of using our platform to align our convention community around a social action.
PCMA's vision is that our industry goes beyond business events to using our connections to transform the world economically and socially. So testing the waters of a social action initiative was a natural fit for Convening Leaders.
In addition to the activation, three speakers traveled from Columbus to give a panel discussion on how leaders can enact equitable policies in their organizations and how professionals can engage with their company leaders to introduce the topic. Speakers included Executive Director of the Columbus Women's Commission Shelly Beiting, Chief Administrative Officer of Nationwide Insurance Gale King and Founder and President of Geben Communication Heather Whaling.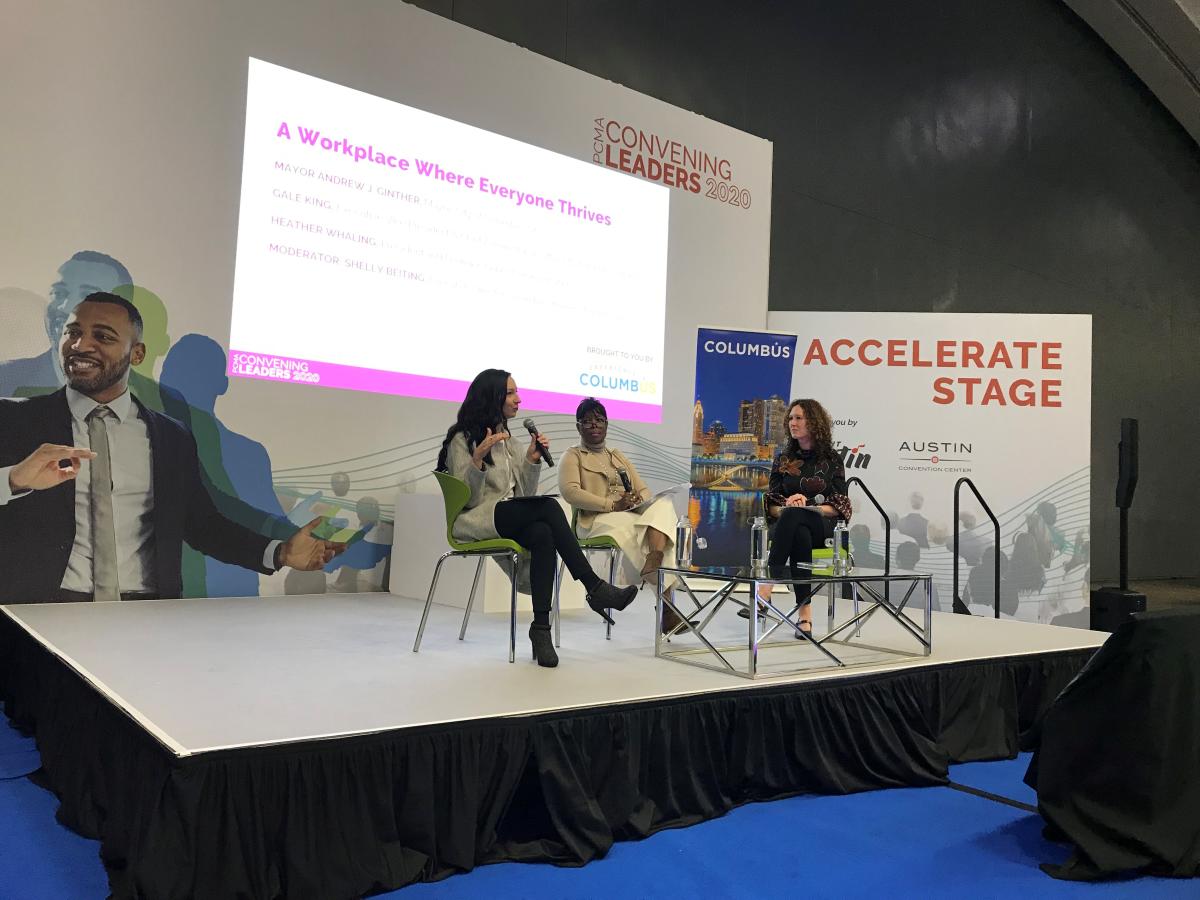 RESULTS AND REACTIONS
Overall reaction to using our platform to promote a social cause was highly positive.
People who visited the activation area tended to spend five to ten minutes engaging with us, when it's more common to pop in for a giveaway or some material.
Many who visited the activation thanked us for spotlighting the issue and using our platform for good. Some expressly thanked us for providing steps they can take in their work life and encouraging people to pledge to take action, rather than just talking about why the issue is important. Several men and women beelined directly to us saying, "I heard there's a pledge and I want to take it!"
Some reactions were more neutral. A few people asked about our city but weren't interested in learning more about the Equity Pledge or the gender wage gap, siting that their company was already equitable because they had females in leadership positions. Only one person gave a negative reaction, siting her belief that spotlighting the issue perpetuated it.
In the end, 140 attendees signed the Equity Pledge during Convening Leaders, and 30 of them created short videos that explain why they feel it's important to commit to pay equity.
"Because this is a real issue and it's time for change." – Pam, San Antonio
"The founding principles of our country are freedom and EQUALITY. Just makes sense." – Paul, Atlanta
"A more equal, equitable world for me, my mother, future children, and beyond." – Shameka, Washington, D.C.
"Because social justice is necessary." – Dawn, Chicago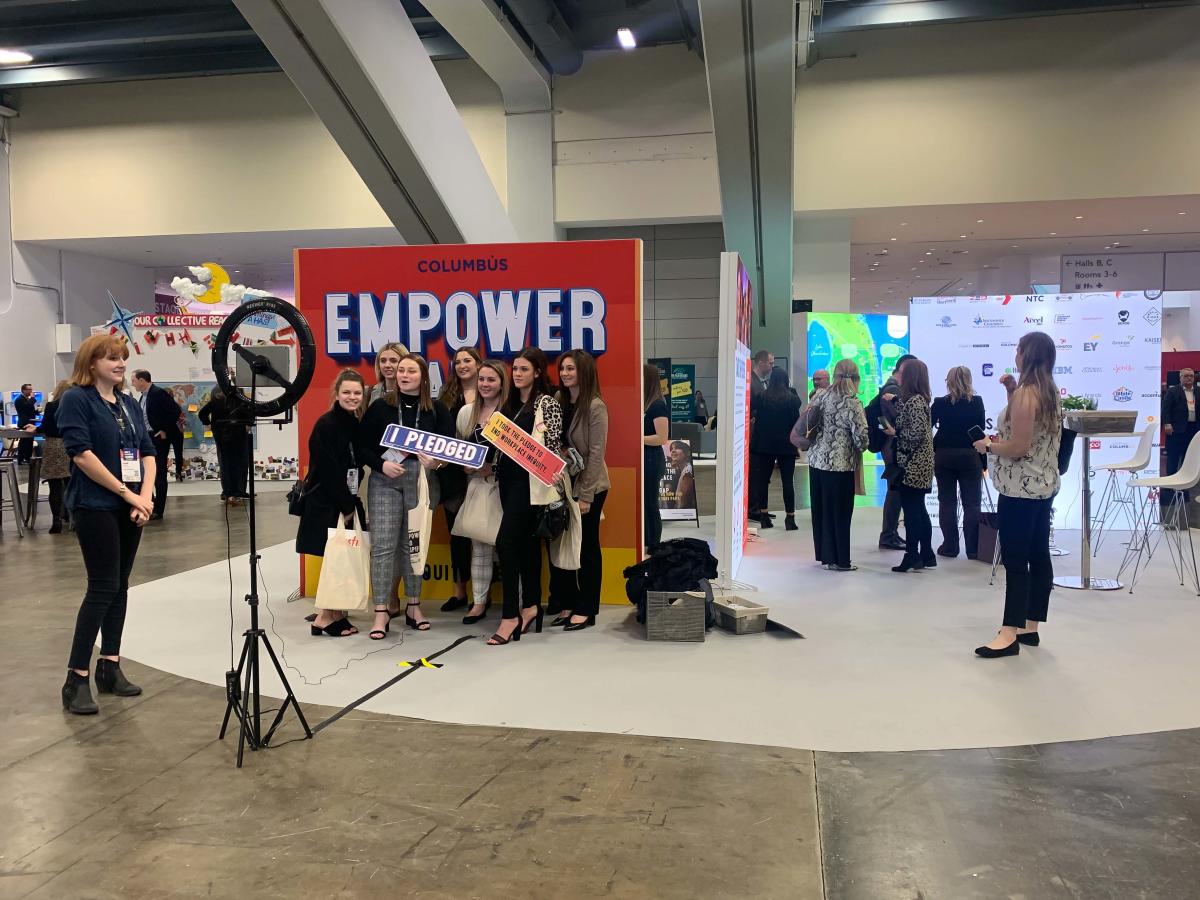 TIPS FOR PLANNING AN ACTIVATION WITH A SOCIAL CAUSE
The reason this activation was successful for us is that it revealed the character of our city better than our standard talking points about our convention infrastructure. The CWC's approach to closing the wage gap is innovative and it leverages the collaborative nature of our community – both of these are characteristics of Columbus that we often tout as being beneficial to convention groups. It also shows the progressive slant of our city, which combats people's perception that most Midwestern cities are conservative.
TIP: If you are planning an activation or event and want to incorporate a social cause, the first order of planning should be to select a cause that aligns with your organization or your members and shines on characteristics you want to spotlight.
Many of our visitors focused on the four steps we had outlined that they can take to promote equity in their events. We intentionally made the steps prescriptive and accessible for the meeting planner audience, as opposed to the more overarching policy changes the CWC has laid out for CEOs. They appreciated having concrete actions they can take within their own sphere of influence.
TIP: Don't just point out an issue or a problem. Come up with ways you can involve your community in solving it. People want to be able to contribute to the cause, so tell them how they can help.
Our activation was flooded with bright colors and positive images. We provided cool tote bags and t-shirts for people who signed the Equity Pledge and gave out dozens of "Empower and Inspire" buttons and temporary tattoos. A colorful photo backdrop encouraged people to commemorate their experience. The overall atmosphere of the booth was fun and celebratory.
TIP: Make it fun and engaging. By nature, social causes highlight a problem to overcome or an injustice in the world. Designing your activation with levity in mind will create a positive and hopeful experience for your attendees, instead of pointing out only the negative.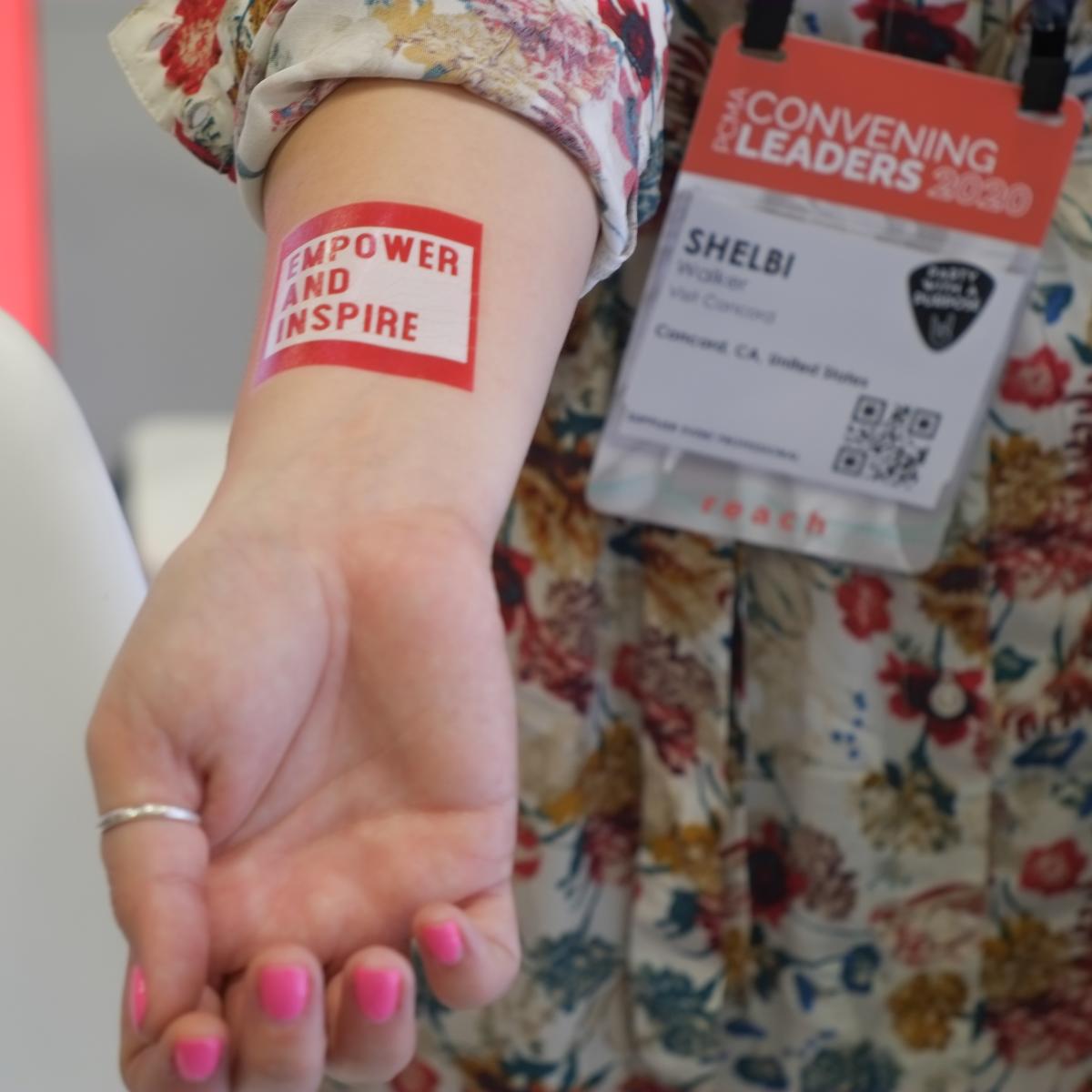 1 National Partnership for Women and Families, America's Women and the Wage Gap, September 2019