Small Business Webinar
Watch webinar here: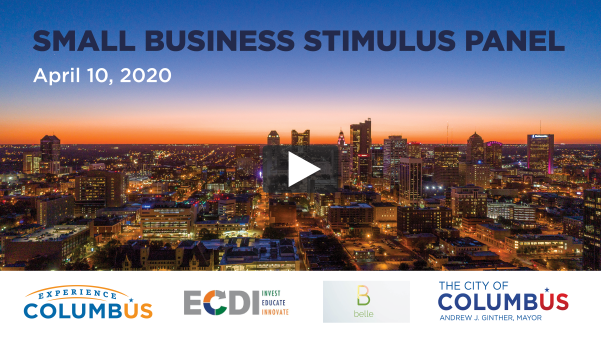 Get in touch with our small business panelists:    
Quinten Harris
Deputy Director for Jobs and Economic Development, City of Columbus
qlharris@columbus.gov  
Douglas Craven
Director of Development & Marketing, ECDI
recovery@ecdi.org 
Megumi Robinson
Senior Director, Belle Communication
megumi@bellecommunication.com 
View her slides here.
Related Resources:
Additional contacts at the City of Columbus:  
Henry A. Golatt
Manager, Office of Small Business and Entrepreneur Development 
HAGolatt@columbus.gov 
Small Business Administration (SBA) Columbus District Office 
65 E. State St., Ste 1350, Columbus, OH 43215 
Phone: 614-427-0407 
Thanks again to our partners at ECDI! 
ECDI invests, educates, and innovates by connecting its one-stop-shop business model to all entrepreneurs, regardless of what business stage they're in. ECDI provides small business loans ranging from $750 to $350,000 and works with clients to meet their specific needs.  
ECDI is committed to helping Ohio small businesses survive COVID-19. They are offering two-month automatic deferments on loan payments and launching a new Recovery Loan Program for small businesses that have been adversely impacted. For additional support, they are providing business coaching via video conferencing and connecting clients to industry-specific professionals for pro-bono consultations during this challenging time. For more information about its COVID-19 response and available resources, please visit ecdi.org. For specific information regarding the recovery loan, please direct inquiries to recovery@ecdi.org.