LGBT Resources

Experience Columbus is a member of the International Gay & Lesbian Travel Association (IGLTA) and Columbus has several TAG approved hotels.
Visit Stonewall Columbus for upcoming events and programs to become involved in and get the latest information on the annual Columbus Pride Festival. Stonewall Columbus serves the Central Ohio LGBTQ community by providing a community center and offering programming and services that enhance the well-being and visibility of our diverse community through discovery, affirmation and celebration.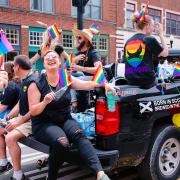 X
LGBTQ E-Newsletter
Sign up for our bi-monthly e-newsletter to receive special offers and discounts for entertainment and dining in Columbus.
Sign Up