Uniquely Columbus Conference Resources
Whether your agenda would benefit from an engaging speaker or an out-of-the-convention-center experience to wow your conference attendees, Columbus has innovators and experiences on-hand to help you create impactful programs.
Thought Leaders In Innovation
Jordan Davis, Smart Columbus
In 2016 Columbus competed against 77 cities to win the U.S. Department of Transportation's Smart City Challenge. Smart Columbus was created to steer the vision of reinventing mobility for the Columbus Region and as director of the organization, Jordan Davis is one of the coolest women we know. Instrumental in putting together the City of Columbus' winning bid, Jordan now spearheads the strategy and collaboration for the joint venture and she can talk to anyone about the future of transportation in Columbus and how Smart Columbus plans to share its information with the world.
Alex Bandar, Columbus Idea Foundry
The Columbus Idea Foundry is a place where anyone can explore their urge to make things. It's like a gym but with tools!. An ecosystem of innovation, the Idea Foundry is the largest makerspace in the world. When tasked with picking a motto for the Idea Foundry, founder Alex Bandar picked Knowledge, Talent and Mischief. Alex embodies all these values; he's a talented visionary, with a wealth of knowledge who always has a glint of mischief in his eyes. He has united the maker community in Columbus and can speak about entrepreneurship and community involvement
Kristy Campbell, Rev1 Ventures
Columbus is constantly ranked as the top place for start-ups in the Midwest. The collaborative culture here creates an environment of learning, hard-work and passion. Rev1 Ventures is a leader in the Columbus start-up community, with a diverse portfolio of start-ups, some housed in their on-site incubator. Kristy Campbell has dedicated her 20+ year career to working with – and within – tech startups to help them build their brand, grow revenue and scale. As Rev 1 Venture's COO, Kristy can give a unique perspective on start-up marketing and entrepreneurship.
Innovative Experiences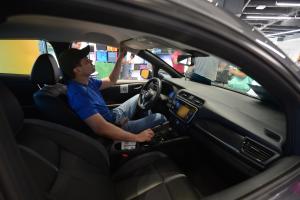 Transportation
Tour one-of-a kind facilities in Columbus to learn about things that aren't happening anywhere else.
Start the day at the Honda Transportation Research Center, North America's largest independent vehicle test facility and proving grounds. Next, head to the Center for Automotive Research (CAR) at The Ohio State University. The CAR Lab is the preeminent research center in sustainable and safe mobility in the United States. End the day at the Smart Columbus Experience Center to learn about and experience the advancements we're making in becoming a smart, digitally connected city. This first-of-its-kind learning center in the heart of downtown on the Scioto Mile riverfront lets you see what the future will look like. Test-drive an electric car or tour Columbus' public riverfront spaces aboard an all-electric autonomous shuttle.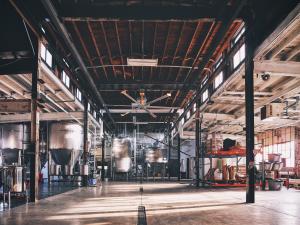 Innovation Neighborhood
Franklinton, just west of downtown, is a hotbed of arts and technology and in recent years has developed into the city's innovation neighborhood.
The largest and most-acclaimed makerspace in the world, the Idea Foundry, is in the heart of Franklinton and offers 60,000 sq. ft. of workshops, offices, classrooms and communal spaces. Just steps away from the Idea Foundry, you will find Land-Grant Brewing Company, home to of some of Columbus' most popular beers and a leader in the brewing industry with innovative sustainability practices. Across the street is 400 W. Rich, housing 140 Columbus based artists, craftsman, designers and performers. The building functions an all-inclusive, artistic community.