The airport, formerly known as Port Columbus, has been officially renamed as John Glenn Columbus International Airport in honor of the Ohio legend, former senator, aviator and astronaut. In 1962, Glenn was the first American to orbit Earth aboard Friendship 7. In 1974, he was elected to the U.S. Senate (D-Ohio) and served four consecutive terms. Glenn, who turns 95 in July, became the oldest person to fly in space in 1998 at the age of 77 when he lifted off on the Space Shuttle Discovery. He has received numerous aviation accolades including NASA's Ambassador of Exploration Award in 2006 and a Presidential Medal of Freedom from President Barack Obama in 2012. 
Nearly 150 flights depart John Glenn International each day and travel to 33 destinations on Air Canada, American, Delta, Frontier, Southwest, United and Vacation Express. Approximately 7 million passengers traveled through the airport in 2015.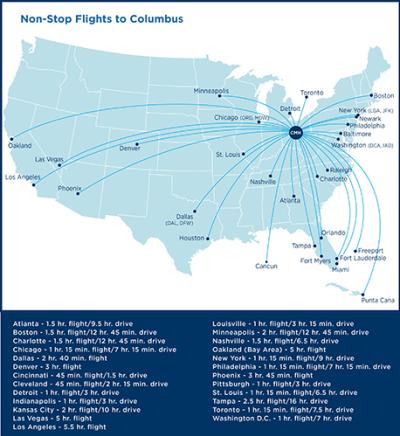 In 2013, the airport completed a $140 million runway improvement that enabled simultaneous takeoffs and landings on the north and south runways, increasing air traffic volume to meet the demands of Columbus' growing population. 
In March of 2016, completion of a three-year, $80 million terminal renovation and modernization program positions John Glenn International for future passenger growth, allowing the airport to maximize airport operations within the existing footprint of the airport property. The program incorporated a major facelift for the ticket lobby, baggage claim and Concourses A, B and C as well as extensive mechanical, technological and security upgrades. The upgraded terminal provides a contemporary, comfortable and convenient facility that delivers a positive passenger experience. Extensive terminal-wide renovations include adding local restaurants, unveiling one of the nation's fastest airport Wi-Fi systems, enhancing natural lighting, and comfortable seating and upgrading restrooms. The program also allowed the opportunity to incorporate more art displays and visual elements in the terminal.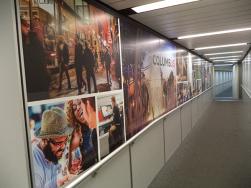 The decor in the terminals has been improved as well, in such a way that as soon as visitors step off of an airplane they will get a sense of Columbus. Both the jet ways and baggage claim areas have been wrapped with photos depicting the city's attractions and major businesses headquartered in Columbus, such as Nationwide and Victoria's Secret. John Glenn International will be many visitors' first introduction to Columbus and it is now designed to be a true "front door to the community."
As of August 2016, cleaner air is expected outside of John Glenn International thanks to a program that eliminates the need for fuel-powered equipment at airline gates. Using a $2.7 million Voluntary Airport Low Emission (VALE) grant awarded by the Federal Aviation Administration (FAA) in September 2015, all gates at John Glenn International are equipped with pollution-fighting units. The VALE program, created to reduce sources of airport ground emissions, allowed for removal of heating and cooling generators on the ground that burned fuel. The new units are projected to result in a total emission reduction of 207.1 tons of carbon monoxide over a span of 20 years.