The Hilton Columbus Downtown sky bridge offers stunning views of the city skyline to the south and the Short North Arts District to the north for anyone who traverses it to the Greater Columbus Convention Center (GCCC) across High Street. The structure, now known as the Michael B. Coleman Sky Bridge, after the mayor of Columbus who provided valuable input while the Hilton hotel was being built, is now also an award winner for its unique design. The sky bridge received national recognition from the American Institute of Steel Construction as the design and construction partners received the coveted 2015 IDEAS2 Award, recognizing projects for which structural steel has been used in an innovative way.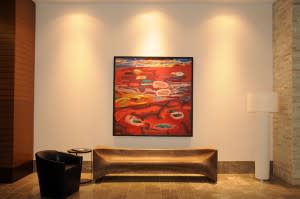 Just one of the many works of art in the Hilton Columbus Downtown, the sky bridge allows convention attendees easy and convenient access to the GCCC, which recently began a 22-month $125 million renovation and expansion project,and many of the 2,100 rooms connected/adjacent to the center. To create a seamless visitor experience and meet the standards set in place by the Hilton Columbus Downtown, the GCCC and its newly built parking garage will have a wide range of public art by local artists that is representative of the community and reflects the diversity of the city.
For art lovers who need more art than can be found at the Hilton or the GCCC, both properties are steps away from the Short North Arts District, which boasts more than 15 independent art galleries as well as a state-of-the-art boutique hotel, Le Meridien Columbus, The Joseph, that opened in January 2015. The Joseph houses art from local collectors Ron and Ann Pizzuti, whose personal collection is also on display at the nearby Pizzuti Collection, which can be accessed for free by hotel guests. The stunning hotel property has also been recognized by Architectural Digest for its thoughtful design, deluxe amenities and distinctive artwork. Incredible architecture and fantastic local art are easy to find in Columbus, and these unique attributes stem throughout our city's dynamic and walkable convention package.