This post is written by Jim Ellison, co-owner and tour coordinator of Columbus Brew Adventures. You can connect with Jim on Facebook, Twitter or Instagram. This post is part three of a three-part series discussing events in the Brewery District.
In our final installment of this Brewery District event series, now that you've picked your venue, I'll help you get up-to-speed on what the area offers guests before and after the event. The Brewery District has more to offer than just event spaces, several area restaurants can handle parties of 12 to 20 with ease and often serve as venues for rehearsal dinners, after parties or a place to wind down after the main event. 
Arepazo Tapas and Wine offers the best of Venezuelan and Columbian cuisine, as well as a separate wine room that is great for small gatherings. Named the best new restaurant of 2016, Rockmill Tavern is the taproom extension of Rockmill Brewery in Lancaster and offers a small second-floor space for special guests to enjoy meals. The area hosts many other walkable bars and restaurants to cater to any hunger or thirst.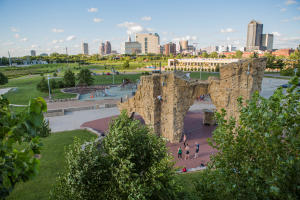 Speaking of walking and the outdoors, the Brewery District is a short hop, skip and jump away from the Scioto Audubon Park and the Scioto Mile. Whether you are searching for a quiet stroll to think about your time in the area, the perfect team picture or bride and groom portrait, these green spaces add value to any outing in the area. 
Or if you are more into nurture than nature and are looking for a way to relax before or after your event, the Brewery District offers two superior splurges. Nurtur the Salon will literally take care of you head to toe.  Or if you are looking for an old-school barbershop with new-school flair, Goodfellas Tonsorial Parlor will treat you more than good, you will feel great after a haircut and shave. 
Put all of these parts together and you can see the Brewery District is more than the sum of the parts, it offers everything a good event needs in one easy-to-access and convenient spot. Your guests will thank you for being in the Brewery District.