Background The All American Quarter Horse Congress is the worlds largest single-breed horse show and the largest convention in Ohio. Each year, Congress takes place during the month of October at the Ohio Expo Center located at the Ohio State Fairgrounds just 3 miles north of downtown Columbus. Having just wrapped its 49th year, its grown to attract more than 650,000 attendees, including horse owners, families and trainers and hundreds of exhibitors and vendors. They, as well as more than 5,000 of their horses, make Columbus their home for the entire month.
Congress attendees only have to pay to park, and they can experience it in two ways. Primarily, in its function as a horse show, attendees can see riders of all ages from all over the world compete in categories such as barrel racing, jumping, western pleasure, roping and more. Additionally, there is a tradeshow component to Congress, which this year featured more than 225 vendors selling a little bit of everything, including jewelry, furniture, Western apparel and horse products.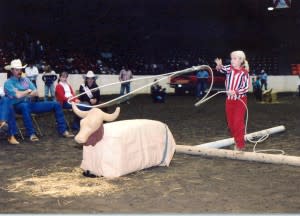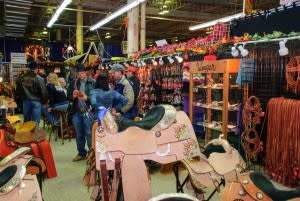 Opportunity Even though there is a lot to see and do at the show, in 2012, after 46 years in Columbus, organizers wanted to reinvigorate the community's interest and sought a way to better engage locals to encourage them to attend the event. To do so, they partnered with Experience Columbus and the City of Columbus to put on a parade through downtown that ended with a press conference to announce the beginning of the show and invite people to attend.
The parade is a spectacle in the best possible sense of the word. Columbus City Council members, Franklin County Commissioners, state representatives, news broadcasters, E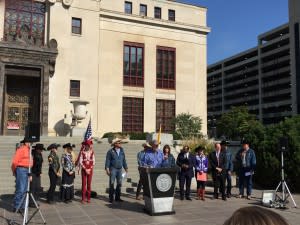 xperience Columbus president and CEO and even the mayor himself don cowboy hats and boots and ride horses through downtown, surrounded by some of the Congress best performers, to catch the attention of bystanders and passersby. In the four years since the event has started, Columbus Mayor Coleman has declared Leo as his favorite horse, and is proud of Congress continued success and impact on the community.
Conclusion Instituting the kickoff parade has been a fantastic success for the show, as not only does it draw crowds of people who work downtown, but it garners media attention from local news outlets. The community has truly embraced the All American Quarter Horse Congress and looks forward to celebrating 50 years in 2016 with the parade and more.