The City of Columbus has officially started a staggered streetscape improvement of High Street in the Short North Arts District. Overall, the project will make accessing the area's 100+ restaurants, galleries and boutiques on foot from the Greater Columbus Convention Center and surrounding hotels much easier.
The first phase of the project is scheduled to take place through September 29, 2017 on the portion of High Street directly in front of the Greater Columbus Convention Center, from just south of Vine Street to Goodale Street. Much of the work on the west side of the street will coincide with the construction on the east side that is already underway as part of the center's $140 million modernization and expansion, set to be complete in July 2017.
Elements of the phase one renovation include:
New sidewalks, including American's with Disabilities Act (ADA)-compliant curb ramps and ramp extensions
Resurfacing of pavement
Addition of brick crosswalks
Improved storm sewers and a new waterline
Updated landscaping including street trees, iron tree grates and refuse containers
Movement of above-ground utilities underground
Upgraded street lighting, traffic signals, crosswalk signals and signage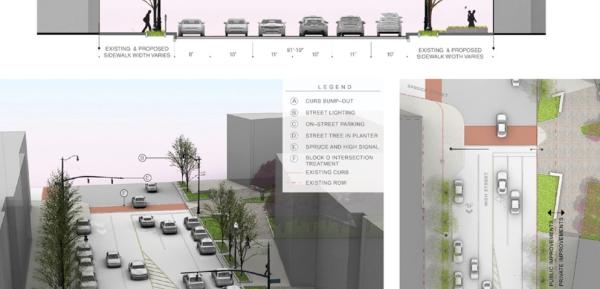 During this time, both foot and auto traffic will still be able to flow through the area, but those in the construction zone should expect some slight re-routing or lane narrowing. As much as possible, any side-street closures or other restrictions will be limited to the hours of 9 a.m. to 4 p.m. weekdays and 7 a.m. to 7 p.m. on some weekends.
Parking meters in the construction zone will be unavailable while work is taking place, but there are many available meters on surrounding side streets as well as garages on Nationwide Boulevard, Vine Street and Goodale Street. Front-door access to all area hotels, including the Hilton Columbus Downtown and Hampton Inn & Suites, and restaurants/bars, including Martini Modern Italian, Novak's Tavern & Patio, Barley's Brewing Company, Brewcadia and Denmark, will be maintained throughout the process.
An overview of the project and additional information is always available at columbus.gov/highstreet.