When travel writer Andrew Nelson recently penned a National Geographic Traveler article detailing "Why All the Cool Kids Love Columbus," one of his top reasons was, "Columbus brews up the best [coffee]." Undoubtedly, Columbus has a standout food and drink scene that has consistently gained national recognition in recent years for its top-ranked chefs, rich farm-to-table movement, one-of-a-kind restaurants and creative artisan desserts, coffee, beers and spirits.
There's no place quite like the Cap City to taste what happens when quality and collaboration come first, and it's easy to navigate all the delicious options and get a real taste of the city on the Columbus Coffee Trail. Now, for the third time since its launch just over two years ago, the experience has expanded to include more shops than ever.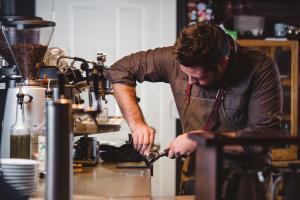 Initiated by a group of local roasters who wanted to create an experience that encouraged people to explore the city's local coffee scene, the Columbus Coffee Trail was launched on National Coffee Day in September 2014. Originally, it featured eight downtown coffee cafes, but that number has since ballooned to 17 locations. All participating stops adhere to the high standards set forth by the Specialty Coffee Association of America, and the baristas are always happy to teach guests about how specific beans are chosen and why the various brewing processes are used.
Participating shops include:
Café Brioso
Cup O' Joe
Das Kaffeehaus Von Frau Burkhart*
Hemingway's Coffee Nook*
Luck Bros' Coffee
The Market Italian Village*
Red Velvet Café
Since its inception, participation on this self-guided trail has been simple. A Columbus Coffee Experience Passport can be picked up at any participating shop or Experience Columbus Visitor Center. After receiving stamps for patronizing any four locations, these can be redeemed for a free, commemorative Coffee Trail t-shirt at an Experience Columbus Visitor Center located in the Arena District or the Greater Columbus Convention Center.
This most recent update makes participation easier than ever, with an option to do so digitally! Any phone with the location services turned on can track stops at http://coffee.taivara.com and after four check-ins, information is automatically sent to the nearest visitor center for quick and easy redemption on site.
More information can be found at CbusCoffee.com.
* New in 2017