Following last weeks post on all of the incredible new venues available to host meetings in the city, today we assure readers that there is no shortage of great hotels to stay in when attending said events. The stature of hotels offered for conventioneers in Columbus has increased tremendously in recent years.
In late 2012 the 532-room Hilton Columbus Downtown opened across the street from the Greater Columbus Convention Center (GCCC), connected by a fully glass-enclosed skywalk. Then in early 2015, the 135-room Le Meridien Columbus, The Joseph, opened up just down the street in Columbus Short North Arts District. Both hotels prominently feature art in all public areas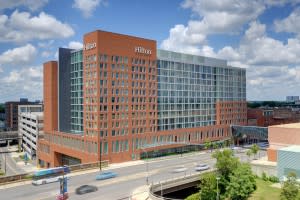 and guest rooms and are anchored by delicious fine dining options.
Columbus' own Cameron Mitchell opened up The Guild House as part of The Joseph and the Hilton's Gallerie Bar and Bistro Chef Bill Glover recently prepared an all-Ohio dinner at the James Beard House in New York City. To say that these establishments set a new tone for hotel quality would be an understatement, and now new and renovated properties around the city are joining the ranks of notable resting places for overnight guests.
As part of the $125-million modernization project currently taking place at the GCCC, the connected Hyatt Regency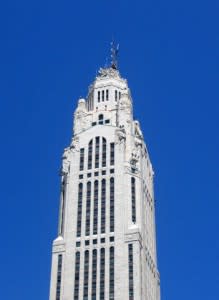 Downtown will also receive a facelift to its meeting rooms and public areas to bring them in line with the look and feel of the new center. To the south of the main convention strip, downtown Columbus historic LeVeque Tower will be home to a new 155-room boutique Marriott, part of the brands Autograph Collection, by spring 2016. The new property is being built as part of the buildings current $20 million renovation.
In nearby Grandview, a new Courtyard by Marriott is under construction at the Grandview Yard which will have 135-rooms and feature free Wi-Fi, an indoor pool, fitness center and a bistro that will serve breakfast, light meals and alcoholic beverages. To be completed by summer 2016, the hotel will also offer an outdoor courtyard with a fire pit and plush seating, connecting it to the Grand Event Center also currently under development.
There are also big changes happening in Columbus University District, beginning with a 165-room Fairfield Inn & Suites OSU that just completed a $4.5 million makeover, which included cosmetic upgrades such as new carpet and wallpaper and updated bathrooms. A larger lobby and bar/lounge area will also feature food and beverage in the evenings as well as complimentary breakfast options. Meeting space accommodates up to 80 and boardroom space seats up to 10. Parking at the facility is free as is the shuttle that can be used to easily access downtown Columbus, less than five miles away.
 Across the street, the first-ever dual-branded Marriott property is being built on the site of the former University Plaza Hotel and Conference Center, close to The Ohio State University. The new $50 million twin-branded Marriott and Residence Inn, set to open late 2016, will feature a 240-room Marriott Hotel and a 114-room Residence Inn and include 12,000 square feet of meeting and event space.