Like many of you, we had a large contingent of Experience Columbus and Greater Columbus Sports Commission staff members in Pittsburgh last week for the annual Connect Marketplace and Connect Sports Marketplace/ Olympic Sportslink. Our team had a fantastic time attending informative sessions, meeting new people and seeing old friends again, and we wanted to share a recap of some exciting things we were involved with while at the conference.
Dan Williams Moderated Collaboration: Giving Minorities a Voice in Event Planning Panel Discussion
Our Vice President of Convention Sales, Dan Williams, is very passionate on the subject of diversity in meeting and event planning. He was recently quoted in a Smart Meetings feature titled, Diversity: A Work in Progress, and following a fantastic discussion on the same subject at Collaborate, was honored to discuss the topic at Connect as well. The panel included four industry experts: John Page of the Greater Columbus Convention Center, Natasha Ross of the Association of Air Medial Services (AAMS), Theresa Holmes of the American Counseling Association and Fabian De Rozario of the National Association of Asian American Professionals. During a healthy conversation with much audience interaction, the panel discussed what it means to give minorities a voice, why it is important to do so and some of their best practices for ensuring it is done. Here are a few key takeaways to keep in mind:
Diversity is more than just black and white, it is people of all races, ages, genders, sexual orientations and religions as well as those with varying degrees of physical and mental disabilities.
For cities: A planner must be able to attend a site visit, and know that when their attendees are in town, they will be able to see themselves in the city and feel comfortable there. And if they don't see it right away, whether it is a gayborhood or a gender-neutral bathroom, they must be comfortable enough to ask where it is or how you will be able to work to make all people feel comfortable and included.
For planners: It all starts with asking a question. As Fabian so aptly put it, if you are not intentionally including someone, you may be un-intentionally excluding someone. Our panelists shared some great real-life examples of how to combat this, such as including a question on dietary needs (not restrictions, this is key since to them it is not a restriction) right on the registration so it does not come as an after-thought.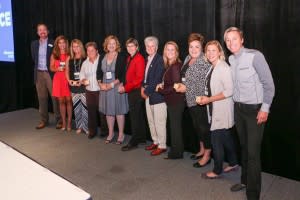 Linda Logan Honored in Connect Sports IX Women Who've Got Game
Connect Sports Magazine's IX Women Who've Got Game honors nine women who have made significant contributions to the sports tourism industry. These women, considered the future of the tourism industry, are helping to elevate the profession and move it forward. Linda Mama Bear Logan, Executive Director of the Greater Columbus Sports Commission, has been leading the city's sports tourism industry for the past 13 years and is one of the pioneers in the industry. Columbus has had some major wins under Logan, including the 2015 NHL All-Star Celebration and the upcoming NCAA Women's Final Four in 2018. Logan was presented with her award during a Connect Sports Marketplace general session by two-time Olympic soccer gold medalist, Abby Wambach.  
Artrice McNeil Named Connect Magazines 40 Under 40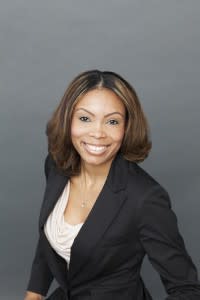 With nine years of industry experience under her belt, Experience Columbus Director of Washington D.C. Regional Sales Artrice McNeil is making waves. Named as one of Connect Magazines esteemed 2015 40 Under 40 award recipients for her tireless work in one of the largest and most important markets for national associations, Artrice continues to thrive and excel.