For anyone planning a wedding this year, be sure to add the brand-new Marriott Columbus University Area to the top of the list of possible venues. Opening in June 2017 as part of the first-ever dual-branded Marriott property, the $50-million twin-brand property near The Ohio State University will house a 114-room Residence Inn alongside the 240-room full-service Marriott Hotel.
As part of the concept, a team of dedicated wedding planning experts will be housed on-site to ensure that every couple sees their vision come to life. The Grand Ballroom has space for up to 350 guests, each of whom can take advantage of complimentary parking and shuttle service during their stay before and after the big day.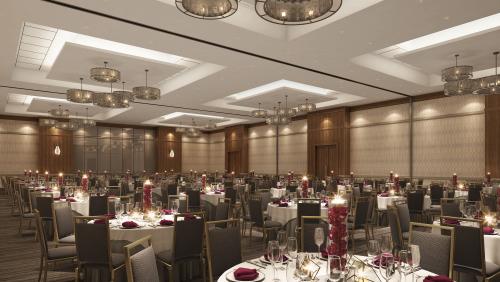 Every wedding reception collection includes the following:
Open Bar priced per collection
Complimentary linen priced per collection
Candle & centerpiece enhancements
Complimentary dance floor
Professional bartending service
Complimentary private tasting for newlyweds
Complimentary ballroom rental
Complimentary overnight accommodations for newlyweds
Reduced accommodation rates for friends & family
Dedicated Marriott Certified Wedding Planner
Each collection is designed to ensure newlyweds have a completely worry-free experience while celebrating their nuptials. Add that to the fact that all catering is done in house by a specialized team led by award-winning Executive Chef Steven Van Stone, and it guarantees family and friends will be enjoying an affair to remember. Whatever a bride and groom can dream, the Marriott wedding team will work to make it a reality.
For more information on holding a wedding at the new Marriott Columbus University Area, please contact Director of Catering, Diana Biasella at diana.biasella@concordhotels.com or visit www.osumarriott.com.
Interested in having a wedding in Columbus but not sure where to start? Experience Columbus offers an array of services to help brides-to-be plan their perfect day. Learn more here, or visit us at the Columbus Weddings Boutique Show on August 13 at Nationwide Conference Center.