Cvent, Inc., a top cloud-based enterprise event management system, has named Columbus 41st on its list of Top 50 Meetings Destinations in the United States. This ranking is exciting for our city as it is up two spots from where we were in 2014.
Criteria for the award include unique request for proposals received, total room nights, awarded request for proposals, awarded room nights, percentage of qualified meeting venues and number of profile views that come through the Cvent system. With that being said, the ranking is not representative of the all convention business booked in Columbus, though more third-party meeting planners are using Cvent, so we hope to continue to move up the list in future years. Our team works with a number of third-party meeting planners and continues to bring them into Columbus from across the country where they consistently note how impressed they are with our walkable convention package, entertainment districts and nationally-recognized food and arts scenes. Even better, the Greater Columbus Convention Center is currently undergoing a $125 million renovation and expansion to enhance the package by July 2017.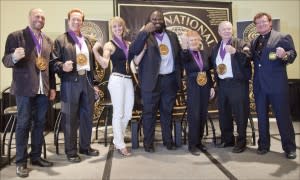 One need not look far for a success story in Columbus, as the annual Arnold Sports Festival and Expo, which has been taking place in the city since it began as the Arnold Classic in 1989, has been named among the top 100 events in the United States by BizBash, landing at number 6 within the trade show category. Factors taken into consideration for this ranking include economic impact, buzz, innovation and events prominence within the communities it serves. The Arnold is certainly deserving of this award, as this past year alone it welcomed 200,000 attendees and 18,000 athletes competing in more than 50 sports.
Part of Columbus fantastic convention package that makes the city worthy of these awards includes top-notch accommodations, such as the state-of-the-art Hilton Columbus Downtown, which was named one of the 2015 Best of MidAmerica Hotels by Meetings Focus. Best Of Award winners are chosen through a poll of meeting planners who hold events all around the world and the properties are ranked on quality of meeting space, guest rooms, services and amenities, food and beverage, tech and bandwidth support, recreational facilities/ activities, helpfulness of staff and overall value and experience.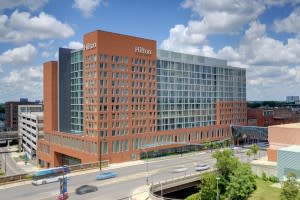 The Hilton Columbus Downtown is located in the heart of the city and connected to the Greater Columbus Convention Center by a glass-enclosed skybridge over High Street. It is within walking distance to over 300 dining and entertainment venues and is home to more than 150 pieces of original local art. The hotels 160-seat restaurant, Gallerie Bar & Bistro, is home to Chef Bill Glover, who will be cooking dinner at the famed James Beard House this upcoming Friday, September 11. With so much to offer, Columbus should be on every meeting and convention short list.