The North Market has long been the epicenter of the Columbus Food Scene. A great balance between delicious prepared food and ingredients, you can find just about anything you need in this relatively compact space, making it the perfect spot for groups to find something for everyone!
Located just steps outside of the front door of the Greater Columbus Convention Center, The North Market is a cherished Columbus landmark that continues to flourish and offer visitors a unique Columbus experience. It has something for every meal and every palette, all in one place. If you need a pick-me-up or something to get started in the mornings, stop in to Staufs Coffee Roasters, a Columbus staple for years. Then, head on over to the recently opened Destination Donuts and enjoy a rotating cast of doughnut delights like cookies & cream, maple sausage and raspberry hibiscus.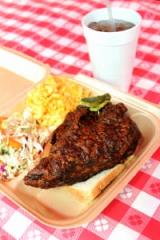 For lunch and/or dinner in the market, The Little Eater just opened in April with food highlighting seasonal produce and a focus on the quality ingredients. Another great option, Hot Chicken Takeover, located on the second floor of the market, sells out of their signature hot fried chicken almost every day they are open. Be sure to check their Facebook for quantity updates before you head out, they're generally open Thursday-Sunday. Katzingers Delicatessen brings its generous deli sandwiches and bottomless pickle barrel to the southwest corner.
For snacks throughout the day, or treats after dinner, Columbus favorite, Jenis Splendid Ice Creams greets you as you walk in the main east entrance. With grass-fed, local cream, imaginative ingredients and friendly and knowledgeable staff, you'll find your perfect scoop. Pistacia Vera is well known for their amazing Parisian macarons, light and airy with a delightful chewy, crunchy texture. These colorful cookies come in a variety of flavors. They also have delicious gluten-free layered cakes and other treats.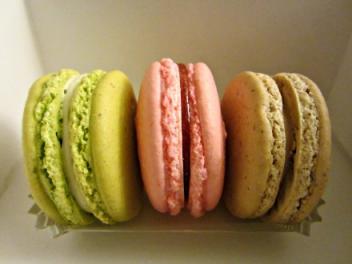 Need a gift or something to take home with you? North Market Spices carries more than eighty varieties of top quality spices, herbs, blends and rubs from around the world with an ever-expanding line of products and discoveries.
If all of that does not convince you to find time to go to the North Market while you're in Columbus, perhaps Country Living Magazine naming the market one of the 8 Must-Visit Historic Food Markets Across America will make up our mind. The North Market has just recently expanded their hours, making it easily accessible throughout the week. The market is open Sunday and Monday 10 a.m. 5 p.m. and Tuesday-Saturday 9 a.m. 7 p.m. Here is a full list of all of the great vendors located here.