Thanks to its central location the allows access to nearly 50 percent of the U.S. population within a 10-hour drive, and an incredibly favorable tax rate for new distribution centers, Columbus' Rickenbacker Inland Port is one of the country's top logistics hubs. Most notably, it is first in the nation for total value of textile and footwear imports, meaning of the total apparel and footwear imports in the U.S., about 70 percent pass through Rickenbacker. This is no surprise considering Columbus has the third-highest concentration of fashion designers behind only New York and Los Angeles.
Fashion-forward Finds
Columbus doesn't just have a creative class, it is a creative class. Columbus boasts more fashion industry jobs, independent designers and boutiques, outstanding fashion design and merchandising college programs and a better fashion scene than nearly any other city in the country.
Young designers seeking the highest quality education flock to Columbus for programs at The Ohio State University or Columbus College of Art & Design (CCAD), named one of the top 20 fashion programs in the world. Following graduation, there are plenty of opportunities to stay and work at any number of the fashion brands founded and headquartered in Columbus, including L Brands (Victoria's Secret, Pink and Bath & Body Works), Designer Show Warehouse (DSW), Express, Abercrombie & Fitch, Eloquii and more. Once designers have honed their craft at a household name, many of them break off to start their own labels or boutiques.
See models stomp the runway in next-gen fashions from CCAD students at its annual spring Fashion Show or get a real treat in October with can't-miss events such as Fashion Week Columbus and Highball Halloween. If shopping is your way to explore a new city, we've got you covered.
The bustling Short North Arts District is known for being full of quaint local shops that put fashion on full display as a top art in Columbus. Check out Homage, known for incredibly comfortable clothing and accessories with designs inspired by eclectic moments and personalities in sports, music, politics and pop culture. Rowe offers the latest women's styles made by established and emerging designers, and nearby Red Giraffe Designs features handmade and vintage jewelry to find the perfect pairing.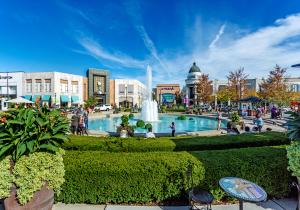 All the big-name brands of a top fashion city, hometown and otherwise, can be found at Easton. Called the "The Rodeo Drive of the Midwest" by USA Today, the development was revolutionary in the retail world. Created by Les Wexner, founder and CEO of Columbus-based L Brands, it served as the blueprint for the modern shopping center. Looking at malls through a lifestyle lens, Easton acts as more of a neighborhood than its predecessor, with a mix of retail, restaurants, entertainment, housing and offices that still continue to expand to this day.
Innovative Inspiration
Innovation is engrained in the Columbus personality, tracing back even before Easton to when Les Wexner made underwear and shower products mainstream. Add that to the fact that city's demographics closely match those of the rest of the country, making it an ideal test market, and it's easy to understand why the next level of retail is on display in Columbus.
Retail is evolving to require an experience for the customer, and those in the industry can learn from many innovative experiences being tested right here in Columbus. DSW is pushing the limits of big-box stores with many new concepts at its hometown "lab store" designed to blur the line between online and in-store experiences. Low shelves were given up in favor of higher ones that create more space for what they see as the future of store concepting – installation of a nail salon (run by local start-up W Nail Bar), a shoe repair shop, an area for creating custom insoles and more. They're pushing the envelope even further through a partnership to sell cannabidiol personal care items in their stores in an effort to help make cannabis-related products more mainstream.
At Easton's Eddie Bauer store, shoppers can test out their cold-weather products before purchasing them with the EB Ice Box, the only one in existence outside the store's hometown in Washington.
Whether you or your attendees are fashionistas looking for your next can't-miss shopping spots, or you've got a group of industry pros looking for their next vision, all the latest fashion and retail trends to suit your needs can be found in Columbus. Come draw inspiration from our creatives. Contact us to find out more.