Last month, the International Association of Conference Centers (IACC) released its third annual Meeting Room of the Future report. Designed to get a better understanding of how global venue operators are responding to the changing expectations and needs of meeting planners, the report offers insights from more than 50 venues across four continents.
We decided to take a look at how Columbus, in particular the Greater Columbus Convention Center (GCCC), stacks up against the top results from the study. It's clear that the recent $140 million renovation and expansion of the GCCC have left it well-equipped to handle the future needs of planners. 
According to the survey, the most important meeting venue element for planners is the availability of high quality internet infrastructure, with 71 percent of respondents agreeing. The enhanced internet capabilities at the GCCC allow 20,000 users to simultaneously access Wi-Fi in meeting rooms and exhibit halls. Even better, all public spaces and meeting rooms offer free Wi-Fi, allowing planners to do more with their budget when meeting in Columbus.
Sixty percent of respondents noted flexible meeting space as a priority and that's not a problem in Columbus. With 373,000 sq. ft. of contiguous exhibit space and the largest ballroom in the state of Ohio, there are plenty of options to play around in those open spaces and design the area to suit various experiences as needed. One of the highlights of the renovation includes air walls between meeting rooms and the concourse, which are ideal to use for check-in, coat-check, apparel vendors, performances or other experiences that need to be easily accessible but don't crowd the walkway when set back.
Multiple options for food and beverage service styles and spaces was noted as an important element by 53 percent of respondents. The Levy team delights in working with clients to create unique F&B experiences, and many clients are pleased to know that the produce used for meals is grown right within the convention center, at the hydroponic vertical Smartfarm. If planned ahead, Levy can also accommodate special requests for the Smartfarm, for example growing mint for some special mojitos for a group! In addition to catered meals, the center offers two food courts, with the options being largely local, and planners who want an extra treat for attendees can purchase "South Café & Marketplace Cash" in $5 and $10 denominations so each person can redeem as he/she sees fit.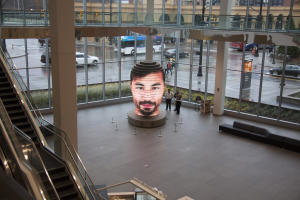 The GCCC really shines when it comes to enhanced public spaces to accommodate increased social/networking, which 40 percent of respondents listed as important. The crown jewel of the center is the new two-level open atrium entrance on the north end. This space is regularly used as pre-function space for the Short North Ballrooms or reception space for those meeting in the nearby D-pod meeting rooms. Additionally, the 14-foot interactive sculpture, As We Are, that calls this space home acts as a neat icebreaker for conversation.