Columbus is booming with up-and-coming game bars, whether it be arcade games, board games or interactive games. These bars make it the perfect place to host the 3rd annual Ohio Game Developers Expo, Nov. 6-8 at COSI. This ever-growing gaming event is designed for sharing, learning and playing all things games. Attendees, developers and exhibitors will intermingle as they converge at Columbus amazing Center of Science and Industry. OGDE attendees even get a bonus all-access pass to COSI exhibits.
After you spend your day learning everything there is to know about games, there are a slew of game bars throughout Columbus to go to unwind and have a few drinks. If youre staying on the north side of the city, Level One Bar + Arcade is a recent addition to Columbus gaming scene and the largest retro arcade and bar. This bar has no kitchen, so make sure to eat before you go, but the beer selection is solid. Level One has 24 local and regional craft offerings on tap including local favorite North High Brewing and more. Come here to enjoy the city's largest collection of classic arcade and pinball games, which are free, as long as you're drinking!
Just a couple blocks north of the Ohio State University campus, Old North Arcade is a 21+ bar, picture above, featuring a rotating selection of classic arcade, pinball and console video games, for free while you're drinking. 20 craft beers are available along with locally inspired hand-crafted cocktails. If you're hungry, you can order food from one of the neighboring restaurants or check out the food truck rotation while you're there. We recommend Mikeys Late Night Slice located right across the street for some late-night pizza.
Kingmakers Board Game Palace, located in the Short North Arts District, is a family friendly venue which serves beer, wine, specialty sodas, tea, lattes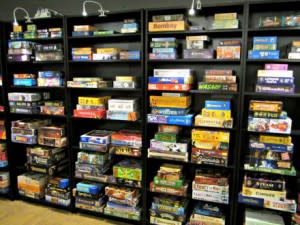 and pretzels from Brezel. There is a $5 Library Fee per person to play, but it gives you access to over 250 different board games! There are games you used to play as a kid like Monopoly, Candyland, Trivial Pursuit, Scrabble and Clue and also a TON of less-commonly known games like Lemming Mafia, Barista the Game, Merchant of Venus and Those Pesky Garden Gnomes. The staff at Kingmakers, Board Game Sommeliers, will teach you how to play a new game and give you tips.
Righ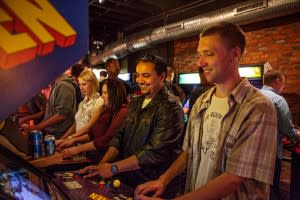 t in downtown Columbus is 16-Bit Bar + Arcade, which offers great drinks and free arcade games for the 21-and-older crowd. The bar serves cool old school cocktails named for male celebrities and new wave cocktails named for female celebrities from the 1980s. In addition to mixed drinks, 16-Bit also carries small batch bourbon, and bottled, canned and craft beers. The arcade games have handy pedestals next to them for your drink! 16-Bit is located right next to Dirty Franks Hot Dog Palace, where you can grab a hot dog and some fries to take with you as 16-Bit does not serve food. All of the current arcade games are listed on 16-Bits website.
Brewcadia is the newest bar-meets-arcade concept coming to Columbus, set to open by Halloween. Located downtown above Barleys Brewing Company, across from the Greater Columbus Convention Center, Brewcadia will have around 30-35 arcade and pinball games, in addition to skeeball, exactly 40 beers on tap and signature thin crust pizza. While you're here for the convention, make sure to check out these cool spots and get your game on!