At last week's grand re-opening celebration of the Greater Columbus Convention Center (GCCC), following completion of its 22-month, $140 million renovation and expansion in July, the Franklin County Convention Facilities Authority (FCCFA) debuted a dramatic, interactive 14-foot sculpture titled "As We Are."
The piece is a 3-D universal human head made from ribbons of ultrabright LED screens and is equipped with a photo booth capable of taking 3-D pictures. Once the photos are taken, the portraits are then projected on the face of "As We Are." The project is meant to portray the welcoming atmosphere and diverse culture in Columbus.
Conceptual artist for the work, and professor at the Columbus College of Art and Design, Matthew Mohr, described the piece: "Each portrait is roughly 17 times the size of the person represented. Eyes will be as big as dinner plates. Through magnification,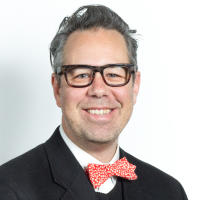 the sculpture re-contextualizes each participant and asks all who see their portrait to consider who that person is and the life they lead, no matter their age, gender or culture."
The sculpture, fabricated by Design Communications Ltd., of Boston, was commissioned by the FCCFA, owners of the GCCC, as part of a $3.5 million investment in local art specifically for the recent modernization. "As We Are" is intentionally located in the new, two-level open atrium entrance at the north end of the center, which is steps away from the Short North Arts District. This creates a true sense-of-place for convention attendees, as they can enjoy more than 150 pieces of distinctly Columbus art within the facility, then seamlessly continue their experience into dozens of galleries and more than 100 restaurants, boutiques and entertainment options throughout the neighborhood.