In Columbus, tourism is a $5.7 billion industry, representing 71,000 jobs, or 9% of our local workforce, in Franklin County. Each day, Experience Columbus works to grow this industry to increase that economic impact by selling convention groups and leisure travelers on all the amazing things there are to see, do and experience here in Columbus. However, our organization is just a small part of the more than 820,000 residents that make Columbus the 15th largest city in the United States. Columbus is also the home of four Fortune 500 companies and 313 corporate managing offices.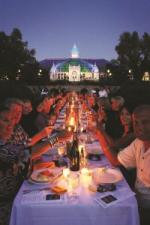 As we have seen in our peer cities, when local businesses and organizations intentionally host meetings, events and trainings in their own backyard, the benefits are numerous. These include millions of dollars in economic activity, new tax revenues for local governments, jobs, community collaboration and community price. For these reasons, we encourage everyone who lives in our great city to Make It Columbus.
Its so easy! First, think about any meetings or trainings that you attend - Does your company have any regional or national meetings or corporate trainings? Do you belong to a professional or hobby organization that has meetings? Are you part of any sporting leagues that have tournaments to which you travel? Columbus would be a great fit for all of these things. After choosing an event you would like to see held in Columbus, all you have to do is provide information on the group to Experience Columbus. Once we have the information, we conduct the necessary research to find out how Columbus can meet the groups needs.
 We've already had great success in booking groups through this program with the help of those involved on the local level, including the Thirty-One Gifts Annual Convention, the International Federation of Library Associations and Institutions (IFLA) 2016 World Library and Information Congress and the 2018 National Urban League Conference. Now, we look forward to hearing from you and helping bring in your group.

Arica Billing, CMP, CTA, handles all bookings through this initiative for Experience Columbus and she would be more than happy to answer any questions at abilling@experiencecolumbus.com.