Columbus food scene is booming. Every month, new restaurants open, new menus pop up and new local produce comes into season.
No matter what time of year you visit Columbus, here are our picks (in no particular order) for iconic Columbus dishes that will knock your socks off.
1. Rye Croissant with House-made Jam at Pistacia Vera There are dozens of dishes Pistacia Vera does better than anyone else, but the most unique among them is the rye croissant. Light and airy with a delicious texture and whole-grain flavor, they are topped with a sprinkling of caraway seeds. Ask for it warm with a side of berry jam (and a latte) and you've got a perfect start to your day.
2. Zucchini Pronto at Basi Italia - Tucked inconspicuously in an alley in Victorian Village, Basi can be a challenge to find. Once you're there, the coziness envelops you. The zucchini pronto is the perfect start to any meal there barely-cooked matchsticks of zucchini are coated in almonds slow cooked in olive oil, bright lemon and fresh parsley and covered in delicate sheets of aged pecorino.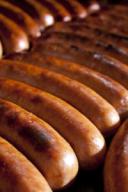 3. Spicy Bahama Mama at Schmidts Sausage Haus This is old-school Columbus right here. Schmidts is known for its sausage and its cream puffs, but the very best thing on the menu is this spicy pork sausage. Garlic and cayenne lend a unique flavor, and a good smear of Schmidts own mustard is the perfect accompaniment.
4. Shrimp and Grits at G. Michaels Low Country cuisine is a forte for this German Village bistro, and Chef David Tetzloff makes the best shrimp and grits this side of Charleston. Plump shrimp are paired with spicy andouille sausage and country ham and topped with a decadent buttery tomato broth. If the weather is amenable, ask for a table on the patio.
5. Northstar Burger at Northstar Cafe With locations at Easton, the Shorth North and Clintonville, tasting this burger will be easy, and well stake our claim that this is the best veggie burger anywhere. Made of brown rice, a little beet and some secret ingredients and served on a buttered bun with pickles, lettuce and onion, even meat-lovers appreciate the deliciousness of this sandwich.
6. Spicy Corn Chowder at Tip Top Kitchen & Cocktails - This downtown neighborhood bar featuring Ohio comfort food and draught microbrews offers this vegetarian chowder that is perfectly paired with their pot roast sandwich. The perfect combination on a chilly evening.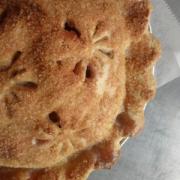 7. Berry pies at Cafe Brioso - This urban eatery and coffee roastery located right downtown, has a big array of pastries made fresh daily, and their pie draws crowds, too. Their berry pies are particularly crave-worthy, and it pairs perfectly with a decadent cafe Cubano and a window seat overlooking one of the trendiest corners downtown.
8. Huevos Rancheros at Tasi Cafe For a heartier breakfast, Tasi in the Short North is your pick. The huevos rancheros are elevated beyond the traditional and the result is delicious. Two poached eggs sit atop a bed of roasted tomato sauce with a slight kick of spice. The dish is garnished with a queso fresco- and black bean-filled tortilla a definite step above toast!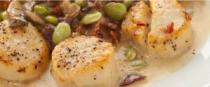 9. Vieras Barcelona One of the most-ordered (and for good reason) dishes at this Spanish eatery combines seared scallops with bacon, lima beans and unexpected accouterments like dates and mushrooms. Sip a glass of cava and you'll be in heaven.