Sally Ann DeBolt, CMP, is the Director of Meetings & Events for the Association for Middle Level Education (AMLE) and she recently hosted her organizations 2015 annual meeting at the Greater Columbus Convention Center (GCCC). At the same time, the GCCC was in the midst of a 22-month, $125 million renovation and expansion. Sally Ann discusses how her conference was impacted and best practices for other groups booked during the construction.
Describe the needs of your group. AMLE serves all educators who reach students 10-15 years old. Each year, we strive to put together our annual conference to match our core values, reach every student, grow professionally and create great schools. Over the past five years, we've had about 4,000-5,000 attendees at each conference with 1,400 on peak. This requires approximately 125,000 gross square feet for exhibits plus another 100,000 for general sessions and 40 concurrent breakout rooms as well as tons of coffee and lunch for all attendees and exhibitors.
What creative ideas do you have for attendance building? In the education world, dollars are shrinking in general and getting approved for travel is even harder than being approved for registration, so destination is key to ensuring our attendees want to go through that process! This year we worked with the Experience Columbus marketing team and our own AV provider to produce videos showing just how cool our hometown of Columbus is. Using a GoPro camera, we showed our Director of Middle Level Services, Dr. Dru Tomlin, walking to the Short North Arts District from the G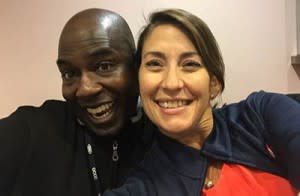 reater Columbus Convention Center. This trip only takes 3 minutes and then attendees have their pick of authentic restaurants and shops. Dr. Dru is the unofficial face of AMLE and happens to be a natural in front of the camera so integrating him into this video really personalized the city to our group specifically. Anything we can do to get them to see themselves having a good time in Columbus as opposed to watching a generic video or ad is a win.
What was your biggest challenge with the renovation? Truly just walking down the path of the unknown as far as progress and potential disruption to our group was concerned. We also had to get creative to recreate a ballroom in the space we already had and in the end the biggest issue was acoustics.
How did you work with the GCCC to overcome those issues? The GCCC provided us an opportunity to preview the materials and did a mock build-out for us. They also brought in the general service contractor to help talk me through what scenarios and challenges we might face. I am lucky to have a very long relationship with our event decorators, GES, and we trust them implicitly. In the end the rebuild was certainly not ideal, but the team did everything they said they were going to do and then some. It took effort on both sides to come to what would work for our specific situation.
Do you have any recommendations for other groups hosting events during the renovation? Be proactive! Involve all of your vendors from the very start and stay in constant communication with the GCCC Event Services team. Have an open mind and be creative. I'm certain my name still brings a worried look to some faces in Columbus, but it paid off and in the end the logistical experience was better than anything I could have hoped for.
Is there anything else you would like to share about your experience in Columbus? We are based here in Columbus and decades ago our leadership team made a choice to be a part of this strong and smart community as opposed to the politics of Washington. We had not had the opportunity to meet here due to space and hotel room limitations prior to the new Hilton being built downtown. Despite the obvious challenges of a renovation, its exciting to have been a part of this evolution of the convention package in an already amazing city. AMLE has a tremendous sense of pride in our hometown and we want to be part of the community that shows the rest of the world what an extremely progressive and fun place this is to be.