Our job is to spend our days talking about all of the great things there are to see, do and experience here in Columbus. We love to do that, and any regular readers of our blog are well-versed in our favorite things: the bustling Short North Arts District, the exquisite Scioto Greenways, the nations best Columbus Zoo & Aquarium and so much more. However, what we dont spend enough time talking about are the people that make Columbus great. So today, we are going to boast about Clifford Steward, CTA, bellman at downtown Columbus Hampton Inn & Suites, across from the Greater Columbus Convention Center. It is fitting that Cliffords last name is Steward, which according to Google is defined as a person who looks after the passengers on a ship, aircraft or train. Clifford certainly does this to the people who pass through the lobby every day at the Hampton Inn & Suites. 
One visitor to Columbus describes his encounter with Clifford on FrankBuck.org, explaining that Clifford is a one-of-a-kind service provider. Over the course of the next three days, I watched Clifford in action. No person went through that lobby without Clifford speaking to them, usually by name. I just made some fresh coffee. And theres tea and hot chocolate too. Whatever you needed, all you had to do was ask Clifford. Not only could you consider it done, but it was done with a smile, and a big, God love you!
Another visitor and frequent traveler, Chuck Gose, described his experience on LinkedIn.com. His voice is like a great BBQ sauce - sweet and bold. It permeates the entire lobby. And that smile. He caters to people unlike any other hotel employee I've ever seen.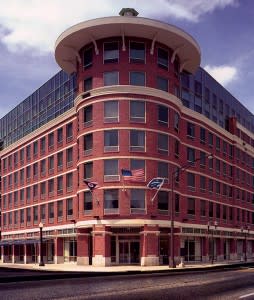 These descriptions are the epitome of Clifford that all guests at the hotel have experienced just like Frank and Chuck. Clifford not only helps in a time of need, but he brightens your day with his affect. The Columbus Dispatch recently caught up with Clifford and the team at the Hampton Inn & Suites and learned that after meeting Clifford, one of the hotel guests actually requested that he attend her meeting in the hotel conference room because she wanted her attendees to get a shot of energy, and knew Clifford was just the man for the job.
Matt Kolbrich, manager at the hotel where Clifford works, told the paper, He bleeds hospitality. He also fields numerous calls from people complimenting Cliffords service and spirit and telling him that guests choose repeat stays at that hotel just because of Clifford. Clifford truly embodies the spirit of our community here in Columbus and we are proud to have people like him enhancing the stays of our visitors each and every day.