Annual fashion events and a community of independent fashion retailers and designers are just a few of the things that make Columbus a fashion city. The Atlantic's CityLab named Columbus the third best large metro for fashion designers, and USA Today referred to Columbus as one of the country's chicest capitals.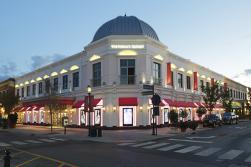 Columbus has the third highest concentration of fashion designers in the country, behind only New York and Los Angeles. The robust list of large fashion retailers that call Columbus home adds to the city's status in the fashion world. L Brands, comprised of Victoria's Secret, Bath & Body Works and Henri Bendel, Abercrombie, DSW, Express and other industry leaders are all headquartered in Columbus.
The Ohio State University offers a strong Fashion and Retail Studies program focusing on merchandising or product development, and Columbus College of Art and Design's (CCAD) revered fashion design program, known as one of the best in the country, features an annual spring fashion show that draws an international audience.
The city offers a variety of activities for guests looking to explore and discover the fashion scene. The Short North Arts District is full of fashionable boutiques. At Mukha, visitors can receive make-up lessons with renowned fashion industry artist Tim Mauer. Or, talented menswear designers like Gary Jones will hand craft a custom suit for men using Europe's finest DorMeuil fabric. For a real immersion into the city's culture, tour the up-and-coming Franklinton neighborhood.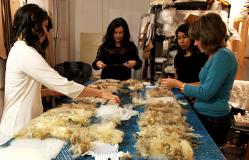 For groups looking for an intimate, hands-on experience, celebrated designer Celeste Malvar-Stewart helps visitors tap into their inner fashionista with a farm-to-fashion experience. For Malvar-Stewart and her guests, the textile is as important as the design. She creates her own textiles, designing garments and accessories around the fabric; fabric that she has made by hand.
Amy Weirick, president of Weirick Communications, recently took advantage of this opportunity. In an article by Connect, Amy discussed her desire to immerse members of the Midwest Travel Writers Association in Columbus' fashion-focused culture, during their annual Spring Meeting.
"Our entire group - both men and women - loved it," said Weirick. "It was creative and educational, and we all went home with a one-of-a-kind creation."
For planners interested in learning more about the Columbus fashion scene, we are offering a 24-hour hosted visit on Oct. 13-14. During the brief stay, guests will take part in memorable first-hand experiences to engage in Columbus' emerging cocktail and coffee scenes, and have the opportunity to partake in a private styling consultation and personal shopping trip. For more information, please visit our FAM tour page.