Kalee Barnhardt, CTA, was recently promoted to national sales manager here at Experience Columbus. In her new role, Kalee will manage business with more than 551 peak rooms through Experient/Maritz as well as all professional organizations in Virginia, Connecticut, Delaware, Massachusetts, Maine, North Carolina, New Hampshire, New Jersey, New York, Pennsylvania, Rhode Island, South Carolina, Vermont and West Virginia. Prior to this, as sales manager, Kalee was instrumental in implementing sales events across the country in conjunction with national partner, Designer Shoe Warehouse (DSW), as well as serving as Experience Columbus' main contact for HelmsBriscoe.
Our team has been very impressed with Kalee's growth over the past three years, as well as her commitment to showing off the best of Columbus and working to ensure it is always top of mind as a meetings destination. Now, we are pleased to see that she has garnered some well-deserved recognition from the meetings industry by being named one of PCMAs 20 in Their Twenties Class of 2016.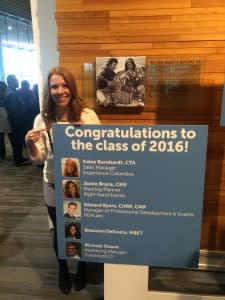 According to PCMAs press release announcing the recipients, 20 in Their Twenties is designed to engage the best and brightest young professionals in the meetings industry by recognizing emerging leaders and their talents which help accelerate the industry and carry it into the future. There could not be a better group for Kalee to belong to, as is evidenced by her enthusiasm, ambition and passion. Winners are each being assigned a mentor to offer them insight as their careers progress and were recognized in a ceremony yesterday at PCMAs Convening Leaders in Vancouver.
Upon receiving the award, Kalee told Convene, "Finding out that I was selected to be in PCMAs 20 in Their Twenties Class of 2016 was the best day in my professional life thus far. Of course, I have an amazing job that I am excited to do each day, but this recognition is the first outside validation I have received that lets me know I am making a difference. I look forward to utilizing the resources I gain as a member of the class to continue enhancing the meetings industry."
Recently, Kalee was also recognized as a CVB Superstar by Meetings Today for her role in curating sales events at DSW locations across the country. With these honors, and surely more to come, we look forward to seeing Kalee's career continue to flourish through idea-sharing with the industry peers she was recognized alongside of; and one thing is for sure, great things are coming to Columbus with Kalee on the job.