It's no secret that not only is it easy to get to Columbus, it's also easy to get around the city! Once downtown, the neighborhoods around the convention center offer hundreds of hip galleries, shops, bars and restaurants, nightlife options, sporting events, hotels, entertainment and more. In fact, from the Greater Columbus Convention Center it's only:
33 steps to a local brewery
83 steps to local restaurants
131 steps to headquarter hotels
275 steps to shopping at the historic North Market
633 steps to NHL Hockey in the Arena District
However, it's completely understandable that not everyone always wants to walk everywhere. After long days sitting in meetings and walking between sessions, those with a tired body and sore feet deserve a relaxing night on the town. The good news is, in Columbus there are numerous FREE transportation options to help weary convention attendees get around downtown.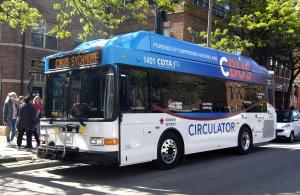 For those who still have enough energy to make it a few feet to a bus stop, check out the CBUS! The CBUS is a free downtown circulator that runs from the Short North Arts District in the north to the Brewery District/German Village in the south, with stops at many popular downtown locations along the way. With pick-ups happening every 10-15 minutes, visitors can hop on and hop off as much as needed to explore all there is to see, do and experience in Columbus.
Of course, there are also options for those too tired to walk any more than they absolutely need to! FreeRide Columbus is a micro-transportation service that operates downtown and offers transportation in fully street-legal, open-air golf carts. Interested riders can take advantage of the service by just waving it down in the same manner as a traditional taxi. Seats up to five passengers.