In late 2016, the Greater Columbus Convention Center (GCCC) chose Levy Restaurants as its new food-service provider. Levy joins the center in partnership with Cameron Mitchell Restaurants, one of Columbus' most successful restaurateurs. Cameron Mitchell Restaurants will help Levy distinctively provide restaurant-quality food and service, an innovative approach, access to signature chefs and a local network of suppliers, from which 85% of all products used by Levy are sourced.
Groups that have meetings at the GCCC in years to come can expect many local touches throughout their food and beverage service. Check out how Levy has incorporated spirits and mixers from local providers, Watershed Distillery and Root 23, into some of its banquet beverages! These recipes are courtesy of Levy Restaurants Bartender Molly-Lynn Christina Dale.
Chocolate Nut
Cold Brewed Starbucks Coffee
¼ oz. Root 23 Sea Salt Carmel Syrup
¼ oz. Cointreau
1 oz. Watershed Nocino Black Walnut Liquor
Serve neat and top with broken bittersweet chocolate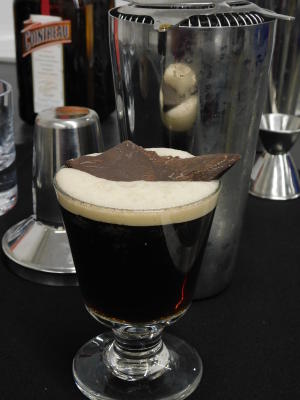 Not so Old Fashioned
Wash Glass with Watershed Nocino Black Walnut Liquor
½  oz. House made Black Cherry Shrub
1oz Watershed Old Fashioned Bourbon
Five "spritz" of bitters
¼ oz. simple syrup
Club Soda filled to the top and orange peel garnish
Serve over ice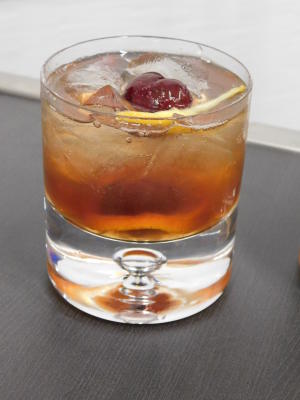 We also got a sample of some group menus from Levy Restaurants Executive Chef Mike Molloy that are sure to make even the pickiest eater salivate.
Small Group Reception Menu
Reception ‑ Stations
Featuring
Vegetable Spring Rolls with Sweet Chili Glaze
Petite Crab Cakes, Mustard Aioli
Cherry Tomato and Mozzarella on Toasted Brioche, Balsamic Reduction and Fried
Basil
Charcuterie
Capocolla, Salami, Soppressata, Prosciutto, Truffle Tremor Goat Cheese, Kalamata
Olives, Grain Mustard, Dijon Mustard, Soft French Bread
Baby Garden Vegetables
Caramelized Onion Dip and Ranch Dressing
Assorted Artisanal Cheeses
Garnished with Berries, Honeycomb and Gourmet Crackers
Traditional Accoutrements
Large Group Plated Menu
House Baked Signature Rolls
Sweet Cream Butter, Roast Pepper Parmesan Butter
Pre-Set Appetizer
Black Mission Figs
Prosciutto di Parma, Point Reyes Bleu Cheese
Pea Tendrils and Lemon Vinaigrette
Balsamic Reduction
Entree
Wild Mushroom Stuffed Chicken Breast
Lemon and Herb Fingerling Potatoes
Baby Carrots, Baby Zucchini, Oven Dried Tomatoes
Port Wine Glaze
Dessert
French Vanilla Panna Cotta
Fresh Berry Compote