This is part two of a three-part series exploring bleisure travel insights and their implications for Columbus travelers. You can read part one here.
It's a widely held belief that millennials prefer home-shares, like Airbnb, over traditional hotel stays, but new research has proven that is not necessarily the case. According to Resonance's "2018 Future of U.S. Millennial Travel Report" 53 percent of respondents prefer a full-service hotel or resort. More than that, housing/apartment rental services came in sixth for preference, behind staying with friends/family (42 percent), staying at an all-inclusive resort (41 percent), staying at an upscale resort (35 percent) and camping (33 percent).
Coupling that knowledge with a stat from the GBTA study that says 82 percent of business travelers stayed in the same place for both the business and leisure portions of their trip, we can safely assume it's most likely millennial attendees will seek a single hotel for the duration of their trip. GBTA breaks it down more and teaches us that convenience (71 percent) and location (57 percent) are the top reasons travelers stay in a single location. Armed with this knowledge, we can safely suggest a few perfect lodging options for bleisure travelers.
The first recommendation is the Hilton Columbus Downtown. This full-service property is the most obvious choice, as it is a headquarter hotel of the Greater Columbus Convention Center (GCCC). More than 150 pieces of original art by Central Ohio artists, part of a larger collection that can also be found on display at the GCCC and its parking garages, are featured on its walls as well as the ceilings of all 532 rooms. Gallerie Bar & Bistro, the hotel's restaurant, offers a meal so unforgettable that it got Chef Bill Glover invited to prepare an all-Ohio dinner at the venerable James Beard House.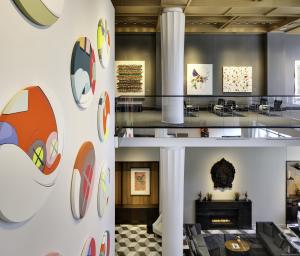 Le Meridien Columbus, The Joseph, while another art hotel, offers a wholly distinct experience for travelers. Just a two-minute walk from the GCCC, guests of this 135-room boutique property will be immersed in the modern art collection of Columbus residents Ron and Ann Pizzuti. Named among the most innovative art collectors of 2015 by ArtNet, the Pizzutis house a larger assortment of their collection in the nearby Pizzuti Collection, to which guests receive complimentary access with a room key. A room key also allows guests discounted access to the nearby CorePower Yoga studio. This dog-friendly hotel provides welcome bags for furry friends as well as numerous unique activations in the HUB (lobby) such as champagne/sparkling wine flights and live music every Friday and various classes in hand-lettering, photography, watercolor, etc. Attached restaurant, The Guild House, offers a farm-to-table experience by one of Columbus' most well-known restaurateurs, Cameron Mitchell.
Another great option, set to be open mid-2019, will be the Moxy Columbus Short North. Marriott bills these properties as "boutique hotels with the social heart of a hostel" and this location will offer guests a rooftop restaurant and a prime location just a few blocks from the GCCC, in the heart of the bustling Short North Arts District.
Of course, with 4,250 hotel rooms downtown alone, these are just a sampling of the many choices for visitors. Be sure to check back in two weeks for our next post on itinerary ideas for bleisure travel.