Chances are, if youre here for a conference and youre staying downtown, you know that High Street is the main artery that connects the city, north to south. You really can spend several days exploring just this one street. Its super easy, and the freeCBUS Downtown Circulatormakes it even more convenient to explore this single stretch of road. If youre in to exploring other areas when in town, heres where to go if you want to get just a bit off the beaten path in some of our favorite downtown neighborhoods. Downtown: Gay Street Downtown is oriented along the High Street Corridor, but once you veer off the beaten path, you can find many pocket neighborhoods full of urban vitality. Foremost among these is Gay Street. In the past five years, this has become one of downtowns most coveted addresses, thanks to a big variety of places to eat, drink and shop. You can easily walk the mile there from the Greater Columbus Convention Center, or the CBUS will drop you off pretty close. Cafe Briosoanchors the western end of this stretch, with artfully roasted and brewed coffees. Zerozcrafts minimalist wallets right inside its tiny retail shop and both swanky and late night dining are offered atDue AmiciandTip Top Kitchen & Cocktails, respectively. TheRenaissance Columbusis a great base to explore Columbus from, and its restaurant,Latitude 41is a hidden gem worth discovering. Walk a bit further to the east to see how in-demand this neighborhood is, with a series of condos under development.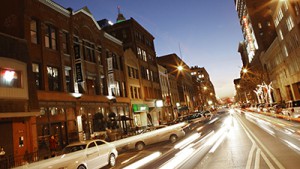 Gay Street, Downtown Columbus
In terms of events, this is a hot spot as well. The monthly second-SatudayMoonlight Marketturns the street into a pedestrian-only zone and brings dozens of vendors and live music from 6 -11 p.m. ThePearl Alley Farmers Marketspills onto Gay Street from the intersecting Pearl Alley from 10:30 a.m.-2 p.m., Tuesdays and Fridays through the end of October. Short North/Italian Village: N. Fourth Street This one is tough the Short North is strictly defined as High Street and just one block to the west and east of it. There are lots of great cross-streets, like Buttles, which takes you toKingmakers Board Game Parlorand the north end of Goodale Park, but to get a taste of something a little newer, check out adjacent Italian Villages rapidly-developing N. Fourth Street stretch, especially between 2nd and 5th avenues. Amid the countless condo towers under construction, you can sample nightlife atLittle Rock, one of the citys best live music clubs as well as the dark and laid-backSt. James Tavern, which serves up local and regional microbrews for $4 a pint. During the daylight hours, stop in atFox in the Snow Cafe, the citys buzziest new coffee shop, and dont miss the house-made baked goods.Seventh Son Brewing Co. crafts some stellar beers, has an outstanding patio and beer garden, and is host to a rotating selection of food trucks. N. Fourth Street runs parallel to High Street and is just over a mile from the Convention Center.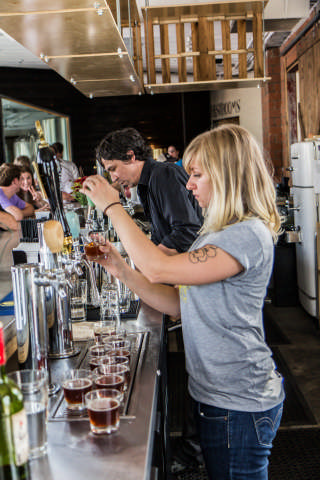 Seventh Son Brewery, N. Fourth Street
Clintonville: Indianola Avenue Again, High Street serves as the main artery of Clintonville, a largely residential neighborhood just north of Ohio States campus. But interested clusters of indie businesses are popping up all over this district, and Indianola Avenue is your best bet for finding a cool cluster off the main drag.
Start at Glen Echo Park, a small but scenic gorge that feels secluded. A bridge (carrying Indianola Ave. above it), is adorned with a beautifully painted native bird mural, which makes a great photo backdrop. Just a bit north, youll findStudio 35, a historic independent movie theater and performance space that also has a stellar bar specializing in local beer and liquor. Yeah, Me Too is a quirky and dead-simple coffee shop that youre sure to remember and The Crest Gastropubhas quickly become one of Clintonvilles dining standouts. If youre coming from downtown, youll need to jump in a cab or Uber, but its less than a 10 minute drive.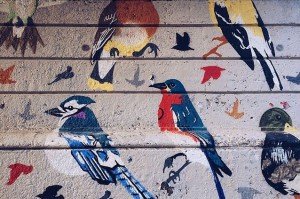 Native Bird Mural, Indianola Avenue @jhowell09
German Village: Beck Street German Villages main drag is S. Third Street, and it has many, many charms. You can hop on the CBUS from the Convention Center and it will take your right into the heart of German Village. If you have a chance to explore, Beck Street is an excellent choice. Starting at the corner of Beck and High (technically in the Brewery District,) youll find High Beck Tavern a great watering hole. Just a few blocks east and inside German Village limits isCaterina a shop that specializes in European home goods. A bit further down isLindeys, a German Village dining institution with a gorgeous patio, andVernacular, a clothing and home goods shop with its finger on the pulse of wearable trends (and affordable prices). Frank Fetch Park is a tiny pocket of urban oasis based on the design of a German beer garden, and perhaps best of all, the beautifully restored homes on this street are some of the most interesting in this neighborhood of notable buildings.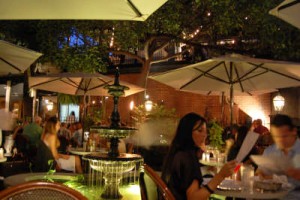 Lindey's patio, Beck Street
Franklinton: West Town Street Franklintons original thoroughfare was Broad Street, and while there are lots of signs of revitalization there, the real energy in this emerging neighborhood is on W. Town Street. Starting at the Scioto River in the east,COSIis one of the nations best hands-on science centers. COSI is also home to the Columbus Historical Society, which has a small but entertaining and informative gallery. A bit west, youll find a trio of new drinking and dining establishments, Land-Grant Brewing Company,Rehab Tavernand Strongwater Food and Spirits, which all pay homage to the heritage of the neighborhood while also catering to a hip clientele. Just behind Strongwater is400 West Rich, a cavernous artist studio space that also holds a bi-weekly, year-roundfarmers marketand some popular monthly dance parties. At the western edge of the neighborhood isGlass Axis, an art-glass studio space where you can watch glassblowing, or even try it yourself. Grab an Uber or cab for this quick 5 minute drive.
Land Grant Brewing Co., W. Town Street
We really recommend getting out to explore these unique neighborhoods in between your meetings, or if you decide to stay for the weekend! Its a great way to relax and stretch your legs and you will find lots of new places to try and tell your colleagues about. Youll go home with some great pictures, full bellies and a list of new brews that you love.