According to the latest report from Successful Meetings, nontraditional meeting venues are on the rise. More than ever, groups are seeking a unique space apart from a convention center or hotel ballroom. Lucky for groups meeting in Columbus that have attendees demanding these types of spaces, we have an abundance!
The report outlines a number of nontraditional venues perfect for hosting meetings and events:
Warehouses and studios for pop-up dinners and corporate events
In Franklinton, just across the river from downtown Columbus, the former warehouse of EBCO Manufacturing, now known as 400 West Rich, has been turned into an incubator space for creatives. Within three rooms of this building lives the Strongwater Event Space, operated by a restaurant and bar of the same name. The space is the epitome of urban warehouse aesthetic, including the original sawtooth window skylights, gorgeous natural lighting, exposed brick walls, unique structural framing and large open spaces perfect for almost any event.
The Kitchen Columbus is the perfect location for dining-centric events. The eclectic space at the northern edge of German Village focuses on participatory and collaborative dining that seeks to blur the line between patron and chef and elevate the traditional team-building experience.
Lofts and rooftops for cocktail parties and meetings
The former Smith Bros' Hardware building in downtown Columbus already offers two refurbished spaces for events with incredible views of the downtown skyline, but coming soon, a new 12,000-square-foot venue will open on the roof of the six-story structure. Even better, a retractable glass roof and walls make it usable in any season or weather.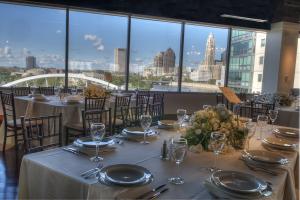 The Ivory Room, located in the sixth floor of a building in downtown Columbus, is a unique urban space that features incredible sweeping views of the city skyline, Scioto Peninsula and the Scioto and Olentangy Rivers. The space can be easily customized for any event and the catering is managed by Cameron Mitchell Restaurants, one of Columbus' most successful and respected restaurateurs.
Art galleries and museums for galas and fundraisers
In late 2015, the Columbus Museum of Art completed a $37-million renovation and expansion project that included the addition of a new 50,000-square-foot wing. With that addition, a new flexible meeting/special event complex was created, overlooking the museum's courtyard, and well-prepared to host any type of event and can easily be combined with the nearby Derby Court event space.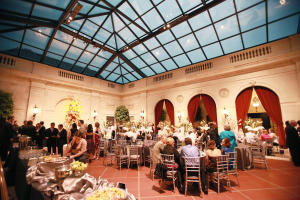 Groups looking for smaller, more intimate spaces, would do well at Brandt-Roberts Galleries in the Short North Arts District. The elegant 2,200-square-foot space features wood floors and 20-foot-high ceilings; the best part of it all is that decorating costs are kept at a minimum since the walls are already adorned with thought-provoking artwork.
Farmhouses, vineyards and villas for retreats and sustainable events
While Columbus, the 15th largest city in the country right behind San Francisco, is certainly not a farm town, the Franklin Park Conservatory and Botanical Gardens offer a green oasis escape from the buzz of city life. In late 2015, another venue opened at the location in the form of the 12,000-square-foot Wells Barn. The structure utilizes a hand-hewn timber frame from a 200-year-old Richland County barn, and features a demonstration kitchen, built-in bar, stone fireplace, lower-level meeting rooms and covered porch overlooking the site's beautiful gardens.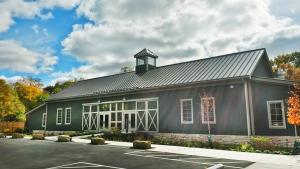 As the article notes, "unique venues also promise unique challenges," but of course the benefits greatly outweigh those challenges. Of course, we have a dedicated team of event services professionals to help anyone navigate the ins and outs of hosting an event in Columbus.