COLUMBUS –  Hosting a successful American Society of Association Executives (ASAE) Annual Meeting & Exposition and 12 other citywide conventions led to a strong third quarter for Columbus' tourism economy. From July to September 2019, all key performance metrics increased. Hotel occupancy grew 2.2%, the average daily rate rose 1.2%, RevPAR (Revenue Per Available Room) increased 3.4% and hotel/motel bed tax collections grew 1.18%.
According to the STR Report, from Jan. 1 to Sept. 30, 2019:
| | | | |
| --- | --- | --- | --- |
| KPI | YTD | % change | Average in competitive set |
| Occupancy | 68.01% | 2.2% | 66.96% |
| Average Daily Rate | $106.83 | 1.2% | $114.71 |
| RevPAR* | $72.66 | 3.4% | $77.10 |
* RevPAR is a hotel industry performance metric, which is calculated by multiplying a hotel's ADR by its occupancy rate
"I'm so proud of how our community rolled out the red carpet and welcomed ASAE in August," said Brian Ross, Experience Columbus president and CEO. "Not only did Columbus break records, but ASAE's leadership and attendees said that it was the best Annual Meeting ever. We're already seeing the return on investment in how it's boosted our city's image as an emerging convention destination and is driving new business opportunities for future years."
According to ASAE, 20% of association executives who attend the Annual Meeting & Exposition will book their own meeting in the host city in the next five to 10 years, representing $500 million in future revenue for the city. Since August 2019, ASAE has generated a total of $187 million in new business opportunities and resulted in eight definite bookings for Columbus. These conventions include the International Studies Association's 2026 Annual Convention, International Literacy Association's 2020 Conference and Association of People Supporting Employment First's 2022 National Conference.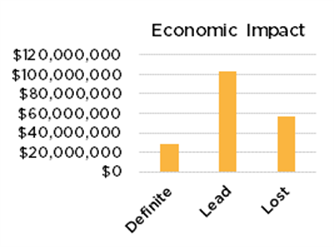 During the third quarter of 2019, Columbus hosted a total of 106 conventions, trade shows and sporting events, including 13 citywide events, those with 1,000 hotel rooms or more on peak night. The American Society of Association Executives welcomed over 5,400 attendees to the 2019 Annual Meeting & Exposition; MONAT, a direct selling company, brought in 6,000 attendees to its MONATions 2019; AmericanHort's 2019 Cultivate drew 10,000 attendees; 2019 Buckeye Elite Showcase Baseball Tournament attracted 5,000 fans; and the Fastpitch Showdowns 2019 North American All Sanctioned World Series 14U and 8-12 tournaments together generated over 7,000 attendees.
"We continue to showcase that Columbus Has No Offseason as we hosted numerous events at Berliner Sports Park, including Buckeye Elite Showcase Tournament and Fastpitch Showdowns North American All Sanctioned World Series," said Linda Logan, Greater Columbus Sports Commission executive director. "Additionally, we hosted the Sports Commission's owned and operated event The Community Cup, presented by The Columbus Foundation. A corporate challenge designed to showcase why Columbus is a top place to live, work and play, we saw 900 participants from 37 Central Ohio businesses compete in 13 events at Otterbein University."
Looking ahead, Experience Columbus and the Greater Columbus Sports Commission booked future business accounting for 88,220 room nights. Future conventions and sporting events include Ohio Valley Region of USA Volleyball 2020 Sports Imports Girls Junior Volleyball Championships, Church of God in Christ 2020 Auxiliaries in Ministry and NACE International: The Corrosion Society's 2027 CORROSION.
Year-to-date through Sept. 30, hotel/motel bed tax collections increased 1.18% or $418,128 to total more than $35.8 million, according to reports from the Office of the City of Columbus' Auditor Megan Kilgore. These funds not only support Experience Columbus and the Greater Columbus Sports Commission, but also the Affordable Housing Trust, health and human services, cultural and arts programs and the Franklin County Convention Facilities Authority.
###
Experience Columbus is the destination marketing organization for the Columbus region, dedicated to growing visitor spending and enhancing the visitor experience. Annually, visitors make 41.9 million trips to Greater Columbus for conventions, tradeshows, sporting events and leisure visits, spending $7 billion and supporting nearly 78,000 jobs. For more information, visit experiencecolumbus.com.