Restaurants in Columbus
Live for the First Bite
Columbus is rapidly gaining a reputation as one of America's up-and-coming culinary destinations. Its restaurant scene is creating a buzz with its creativity, diversity and one-of-a-kind experiences, from classic diner fare, to fine dining, to offbeat, ethnic and funky cafes. With farms, heritage livestock and artisan producers just minutes away, Columbus chefs have easy access to the best local ingredients from which to craft their menus.
Columbus is home to restaurateur Cameron Mitchell and the James Beard Award-winning cookbook author Jeni Britton, the mind behind Jeni's Splendid Ice Creams, both with locations located throughout the city.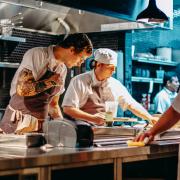 X
Essence Names Columbus One of the Best Destinations for Culinary Travel in 2024
"It is called home by chefs and restaurants that have been given kudos from The New York Times, Bon Appétit, Food & Wine and others," says writer Sheryl Nance-Nash.
LEARN MORE